Middle Eastern carriers Emirates and Etihad Airways are to forge a closer co-operation through an interline agreement giving travellers greater flexibility when flying into and out of the United Arab Emirates.
Under the agreement passengers will be able to purchase a single ticket allowing inbound flight to either Dubai or Abu Dhabi, with an outbound flight from the other airport.
This arrangement is intended to increase tourism to the UAE by giving passengers a broader reach across the Gulf state's individual emirates.
"The 'open jaw' arrangement will allow visitors to cover as much ground as possible when exploring Abu Dhabi, Dubai or any other emirate, saving time by removing the need to fly home via their arrival airport," says Emirates.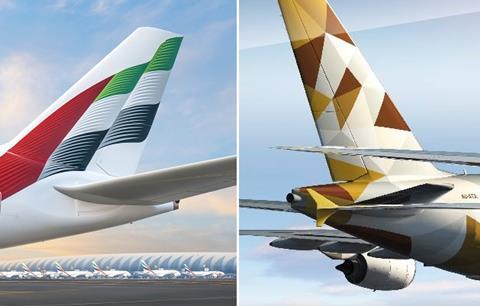 The Dubai-based operator describes the interline agreement, the subject of a memorandum of understanding signed during the Arabian Travel Market, as the "first of its kind" between the two carriers.
It says the airlines will initially concentrate on attracting visitors by developing inbound interline traffic from particular cities in Europe and China.
"We believe this new agreement provides a strong foundation to develop further opportunities between both airlines and is an example of our commitment to the UAE's vision for continued economic diversification," says Emirates Airline president Tim Clark.
Etihad Airways chief Antonoaldo Neves adds that the agreement amounts to a "win-win proposition" for passengers.
Customers travelling into the UAE also have the option to travel from one city on both carriers' networks, and return to another point served by either airline.