Finnair is expecting to rebuild its services over the third quarter, operating around 50% of its pre-crisis flight capacity by September, up from the figure of 25% in July.
It aims to carry out 120 daily flights in August and increase this to 190 in September.
The airline turned in a €174 million ($202 million) comparable operating loss for the second quarter – some €2 million per day – and €265 million for the first half, as a result of its flights being brought to a near-standstill.
Finnair maintained a number of cargo services over the quarter to 30 June, operating some 600 flights, and cargo made up €50 million of the overall €69 million in revenues for the three-month period. Overall revenues were down by more than 90%.
The company is not giving any revenue guidance for the third quarter, owing to the continuing uncertainty over air travel restrictions.
But it expects – given the cost of restoring services – that the operating loss in the third quarter will be "of a similar magnitude" to that in the second.
The airline, unsurprisingly, says the full-year result will involve a "significant" operating loss.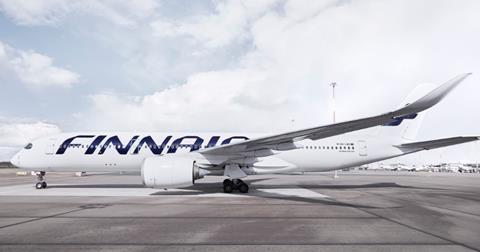 Chief executive Topi Manner claims, however, that second-quarter developments offer "many glimmers of hope".
The cargo services were profitable, he says, while the airline managed to shore up its financial foundation with a €500 million rights issue.
"Our strong ownership structure remained essentially unchanged," he adds. "The support by our shareholders forms a solid basis for rebuilding and implementing our strategy."
As a result Finnair's cash position remained strong, at €970 million, and the equity ratio on its balance sheet increased to nearly 28%.
Initial results from a cost-reduction programme have also been "encouraging", says Manner, as the airline aims to reduce annual expenditure by €80 million from 2022 compared with the 2019 level.
Finnair adds that it has been progressing with refunding passengers, reimbursing over €270 million to customers over February-June.
"In four months, we have received as many refund requests as we normally get in three years," says Manner. Around two-thirds have been processed but Finnair expects it needs to refund a further €100 million.