Finnair is to shed some 150 personnel as a result of its adopting a new business strategy aimed at restoring the airline's profitability.
The carrier had previously warned that it could cut up to 200 positions as part of the measures.
It states that around 90 jobs will be lost in Finland and 57 outside of the country.
"Some employees can be offered a new role at Finnair," the carrier says, adding that the reductions will take place by the end of February next year.
The airline is having to restructure its operation owing to the closure of Russian airspace, access to which had been crucial to Finnair's ability to serve certain Asian destinations.
Chief executive Topi Manner says he is "deeply sorry" that the "difficult but necessary" cuts have to be implemented, acknowledging that airline's staff have already "had to stretch" during the pandemic.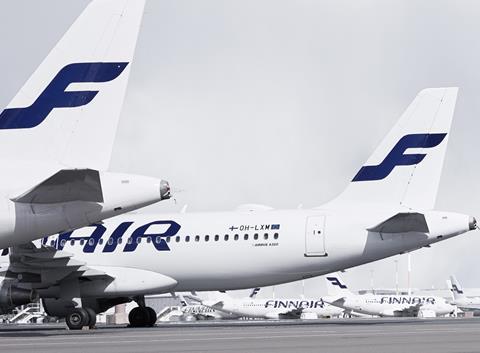 Finnair says the negotiations over changes affected 770 employees in Finland working in executive, managerial and specialist roles.
It says it will offer those affected by the job losses support for re-employment, including career coaching and training.
Finnair has been facing unrest from employees, with cabin crew staging a 24h strike over the course of 20-21 November.
The transportation workers' union AKT says the walkout is to protest the carrier's personnel policy.
Finnair has demanded salary cuts during autumn, and cabin crew counter-proposals have not been accepted.
The airline, according to AKT, is threatening to lay off 450 employees, and outsource cabin service on North American and Thai routes.
Finnair describes the strike as "illegal" and says it has been forced to cancel around 100 flights scheduled to depart Helsinki.
It states that it had proposed changes to improve crew utilisation efficiency, including rules on hotels during lay-overs and additional pay-per-hour rules for long-haul services, give the extended flight duration on Asian routes.
"As no agreement was found with cabin crew, Finnair must look at alternative measures," the carrier says, adding that it is planning to increase subcontracting of cabin service.