Flybe's largest creditor DLP Holdings – a Luxembourg company linked to the airline's owners – is unlikely to receive the entirety of the near £50 million ($63 million) it is owed, according to the administrators of the defunct UK regional carrier.
Detailing the progress of their administration on 17 August, David Pike and Mike Pink from Interpath Advisory, said DLP Holdings will "suffer a shortfall in their indebtedness". However, that figure is not quantified.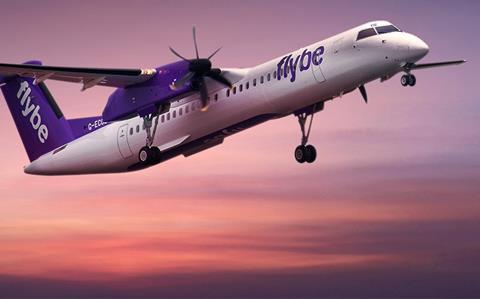 DLP Holdings, which had in April 2021 acquired assets, including the brand, from previous incarnation of Flybe after that business failed in March 2020, had lent the new airline a total of £49 million through separate agreements.
A term loan facility saw it advance £20 million, while separate deals saw a further £29 million loaned out, both secured against Flybe's assets.
However, the £20 million loan was subject to a so-called "subordinated clause agreement" between Flybe, DLP Holdings and the UK Civil Aviation Authority, designed to ensure that other creditors are paid first.
DLP Holdings is wholly owned by funds managed by Cyrus Capital Partners, a company behind Flybe's previous iteration.
The airline's preferential creditors – its 279 employees and the UK's tax authorities – should be paid the entirety of their respective £243,000 and £218,000 claims, the report says.
However, the picture for Flybe's 28,000 unsecured creditors is less rosy: although the administrators forecast a "small" dividend will be paid, they note the amount is dependent on the total value of claims and the costs related to agreeing and distributing the funds.
Claims from unsecured creditors were put at £20.9 million in the directors' statement of affairs, issued in March.
Any dividend will also be drawn from the "prescribed part" only – a ring-fenced total capped at £800,000 before costs.
To date, the administrators have realised around £7.8 million of Flybe's assets, offset by expenses of £5.3 million, including £2.7 million in administration costs.
Flybe's small fleet of De Havilland Canada Dash 8-400s were all leased and have been repossessed by their owners. Another potential asset in the form of slots at several UK airports, including London Heathrow, were unable to be retained.
Additionally, Interpath intends to apply for a 12-month extension to the administration period from its previous expiry date of 27 January 2024.
Flybe collapsed into administration in January this year having only begun operating in March 2022. Losses were running at an estimated £5 million per month, partly blamed on the lingering impact of Covid and aircraft delivery delays.

Dominic Perry is deputy editor of Flight International but also contributes extensively to flightglobal.com. Although specialising in the coverage of the helicopter industry, he has written on most topics in aerospace – be they commercial, defence or business aviation. In addition, there has been an increasing focus on the decarbonisation of the industry and zero-emission flight initiatives.
View full Profile