IAG is reinforcing its presence at London Gatwick with the restoration of British Airways short-haul operations, while Spanish division Vueling is opening new services with slots on loan from the flag-carrier.
British Airways is establishing a new subsidiary, BA Euroflyer, which will operate short-haul services from Gatwick later this year. In the interim BA will carry out the flights under its own air operator's certificate.
The first service operated to the Cypriot city of Larnaca on 29 March, and the initial network will extend to France, Germany, Italy the Netherlands, Croatia, and several Mediterranean region destinations.
British Airways withdrew from Gatwick as it cut back operations in the face of the Covid-19 pandemic.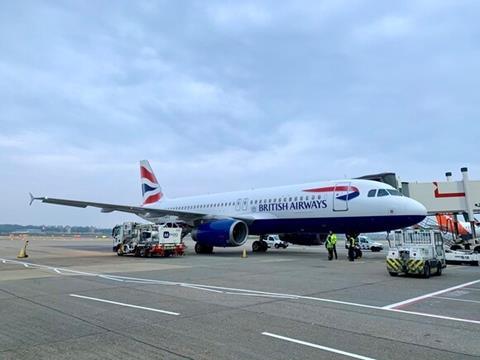 BA Euroflyer's acting chief, Tom Stoddart, says the return of European services from the airport, after a two-year absence, is a "significant milestone" for the company.
"I am looking forward in anticipation to see our newest subsidiary grow, adding new routes and providing customers with more options to get away on holiday with a premium British Airways service," he says.
BA will open 35 destinations over the course of the next few weeks, running to mid-May, before adding additional routes later in the year.
The carrier aims to distinguish its fleet from low-cost airline products by offering a business-class cabin as well as economy seating.
But IAG is also building a presence at Gatwick with an expanded network from its Spanish budget carrier Vueling.
Vueling chief commercial, strategy and network officer Carolyn Prowse, speaking during a briefing in London on 31 March, said the airline was basing a pair of Airbus A320neos at Gatwick from April.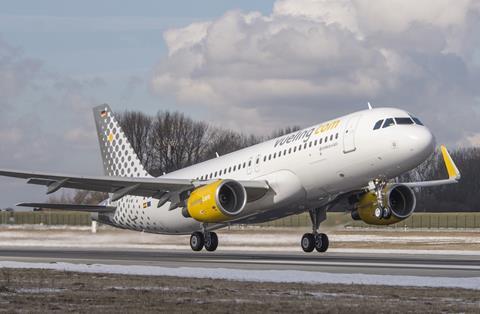 The carrier is opening five new routes from the airport – to Malaga, Granada, Seville, Almeria and Menorca – and will also shift its A Coruna route to Gatwick from London Heathrow.
Prowse stresses that the Vueling network expansion is separate from the BA Euroflyer operation, and founded on loaned BA slots.
While not disclosing how long the slots would remain with Vueling, she says the increased network is "not a this-year-only" situation.
Vueling already has eight Gatwick destinations, among them Paris Orly, which Prowse says the carrier is "consolidating". Its Orly operation will expand to 50 routes this summer, as a result of remedy slots obtained from Air France.