Low-cost carrier IndiGo recorded record revenue during the three months ending 31 December 2022, helping it to its first net profit since the same period in 2021 and its second since the beginning of the pandemic.
The Indian airline characterises the period as reflecting a "strong recovery" from Covid-19, featuring significant improvements in passenger demand and forward bookings.
"Third quarter performance was strong both operationally and financially in the backdrop of robust demand for air travel," says IndiGo chief executive Pieter Elbers,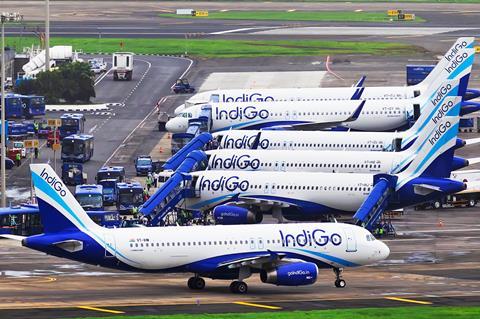 Revenue of Rs154 billion ($1.9 billion) in its fiscal third quarter was some 63% higher year on year and around 50% up on the same period in 2019, as income was boosted by yields up 22% and 39% against those respective periods, IndiGo said on 3 February.
A net profit of Rs14.2 billion included, however, a near-Rs5.9 billion impact from foreign exchange losses, as the weakness of the rupee continued to dog the airline's performance.
High fuel costs also weighed on IndiGo's results, with total costs of Rs140 billion up 50% year on year and 43% from 2019.
IndiGo's record revenue was achieved on capacity that is already exceeding pre-Covid levels, at 28.8 billion available seat kilometres for the quarter, versus 25.8 billion in the first quarter of 2019. A load factor of 85.1% in the most recent quarter was, however, still a couple of percentage points off pre-Covid levels, but represented a 5 percentage point rise from the previous quarter.