KLM has outlined a three-pronged approach which it says will ensure Dutch government night-time targets to reduce noise impact around Amsterdam Schiphol airport by 2024 are hit without requiring forced capacity reductions.
The Dutch government last year floated proposals to reduce departures out of Schiphol airport in a move to establish what it called a "new equilibrium between noise and flight activity". The plans proposed capping maximum annual departures at the hub to 440,000 – 12% below the existing level and 20% under a previous planned growth path. Schiphol subsequently set out out a plan to cut departures from the coming winter season to 460,000 flights a year – a move airlines successfully challenged in court.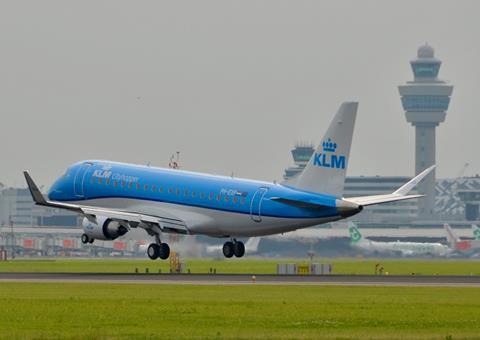 KLM has now submitted its response to the governnment's proposals to reduce noise impact by 20% throughout the day and by 15% at night, which it says will see the night target achieved "as early as 2024".
The Dutch carrier says its plans include the operation of new aircraft, which will reduce the noise impact over current-generation models. Under its fleet renewal plans, KLM expects to begin the replacement of its Boeing 737 fleet with new Airbus A320neos from the start of next year.
KLM's proposals also include adjusting its flight schedules to deploy its quietest aircraft at night, while also suggesting airport fees be higher for noisier aircraft to incentivise the use of quieter models.
The third prong relates to "smarter processes", which the carrier says will ensure quieter operations. "Examples include alternative flight approach procedures, ensuring that aircraft spend less time at low altitudes," it says. "This implies different climbing and approach procedures, which makes implementation challenging for airlines as well as Air Traffic Control the Netherlands (LVNL). However, if all other operators join the KLM Group in pursuing such change, we will be able to achieve our noise targets in cooperation with Schiphol, LVNL and the government."
KLM says that under these proposals night-time targets will be achieved from 2024 and that the day-time target will be achieved in three years' time.
The carrier adds: "In the years thereafter, our plan will lead to a stronger decline in noise than the plan proposed by the minister. In three years' time, the result will already be better for local residents. It's a choice between scrapping flights as a short-term solution or aiming for smart improvement."