South Korea's two largest carriers reported a decline in their third-quarter profits, as a jump in operating costs outpaced a rise in revenues from increased passenger traffic.
In their respective financial results, Korean Air and Asiana Airlines also saw a decline in cargo revenues, which they note still remains higher than pre-pandemic levels.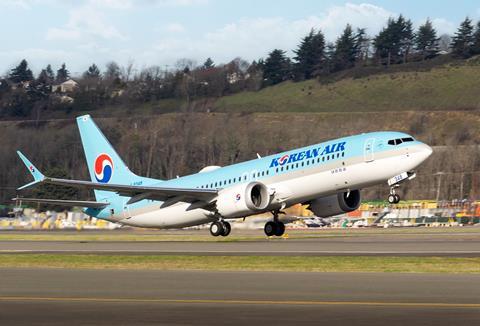 For the three months to 30 September, Korean Air posted an operating profit of W839 billion ($646 million), a 38% decline year on year.
The SkyTeam carrier saw a 5% rise in revenue to about W3.7 trillion, led by a sharp 76% jump in passenger revenues.
Korean Air reported strong passenger demand during the quarter, which is traditionally a peak travel period. Traffic rose about 80% year on year, with capacity growing 68%, leading to a 5.2 percentage rise in passenger load factor to 85.2%.
However, it saw a 51% decline in cargo revenues, attributed to a combination of weaker demand and the low season for cargo. Korean Air notes that its cargo revenue is about 43% higher than the same period in pre-pandemic 2019.
Korean Air recorded an 18% jump in operating costs to W3.3 trillion, as expenses increased with a ramp-up of flying of activity.
As for Asiana, it posted an operating profit of nearly W127 billion, down 45% year on year. However, it notes that it is an improvement on the operating loss it posted in the same quarter of 2019.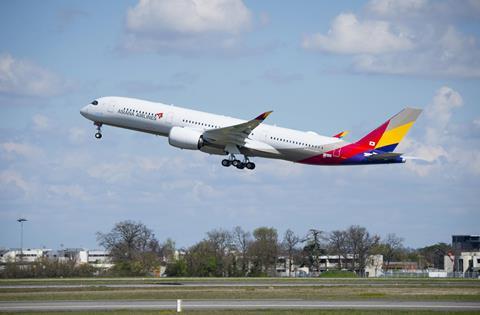 The carrier, which is in the process of being acquired by Korean Air, saw a 13% rise in revenues to W1.7 trillion. International passenger revenue saw the highest increase year on year – at 75% – offsetting a 48% drop in cargo revenues and a 17% decrease in domestic revenues.
The Star Alliance member recorded a 23% jump in operating expenses, led by increases in labour and MRO-related costs from increased flying activity.
In its outlook, Korean Air says it expects passenger travel demand to hold strong, and that it will work to "maximise profitability" by tapping into areas of new demand. It warns, however, of a "moderate" increase in air cargo demand, given macroeconomic uncertainty.