Leasing executives have seen a strong recovery in 2022 as travel restrictions have been lifted, but say that MRO slots are in short supply and that the supply chain presents a challenge.
Chris Gruener, executive vice president and head of technical at BOC Aviation, says that during the pandemic some of the lessor's fleet exited airlines during restructuring exercises, or came off lease. Some aircraft entered storage owing to a lack of demand.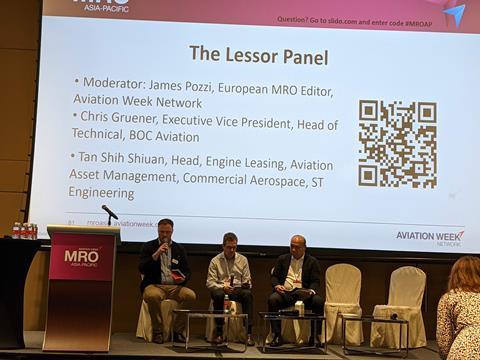 "At the beginning of [2022] these aircraft were parked and we didn't have any prospects," he says. "But toward the end of the first quarter…I think airlines realised that the booking situation looked really good for the summer season, so we placed those aircraft in a fairly short amount of time."
In addition to airlines getting back into the air, start-ups have also generated demand for leased jets. He adds that while the situation for narrowbodies in Asia-Pacific is very strong, widebody capacity has yet to fully recover.
Gruener made the remarks at the MRO Asia Pacific conference in Singapore, where he spoke on a panel with Tan Shih Shiuan, head of engine leasing at Singapore's ST Engineering Aerospace.
Tan also sees strong signs of recovery, noting that his company has just a single narrowbody engine that is not leased out, and that a letter of acceptance is being finalised to place this asset.
Of the troubles the airline industry faced throughout the pandemic, Tan strikes a philosophical note: "We've been in the industry a long time, and we know that airlines go through cycles, we have to learn to talk with them."
Still, both Gruener and Tan have observed challenges with MRO capacity. Gruener says that BOC Aviation even "speculatively" booked MRO slots to reactive stored jets in anticipation of getting customers.
"We didn't know at the time if we would have a customer, but we knew the aircraft needed work…it was worth the investment because otherwise we would not have had a slot for them."
He adds that the supply chain continues to be problematic, with long lead times for everything from engine parts to cabin accoutrements such as carpets.
Apart from the short term challenges in MRO capacity, Tan sees long term challenges for the MRO sector, mainly a lack of people with the requisite expertise and an aging workforce that needs to be replaced with qualified people. Attracting new talent, however, is a major issue.
"There are many other jobs that are much more attractive, and which pay a lot more," says Tan. "Exciting people to come into the industry and repair engines is a challenge. This is a perpetual challenge that we have to work towards."