An unlikely bid to revive the Monarch Airlines brand could see a new iteration of the carrier operational by the middle of 2024 using a small fleet of Airbus A320-family jets under plans disclosed by the company's newly-appointed chair.
However, much about the revival plan remains unclear; in particular there is, as yet, no detail on who is bankrolling the attempt to bring back a name absent from the UK market since the collapse of the original Monarch Airlines in 2017.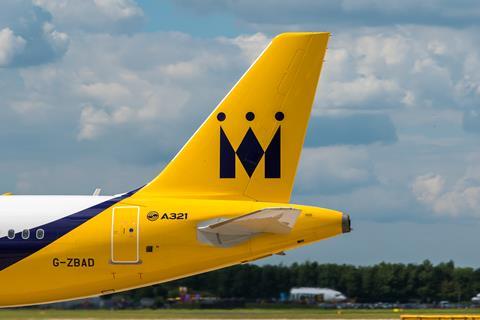 Leading the effort is Daniel Ellingham, who was appointed as the sole director, effectively the board chair, of both Monarch Airlines and sister company Monarch Holidays on 18 August.
Ellingham, whose LinkedIn profile lists previous board advisory roles at Austrian Airlines and defunct Swissair, says he has been involved in the revival attempt since January but "did not take up a formal position until July."
He is hopeful the revived airline could be back in little under a year: "We would like to see Monarch flying by mid-2024, however I do accept that this is very optimistic."
His deeper involvement in the would-be operator coincides with the sale of Monarch Airlines and Monarch Holidays, by their former owner for a "a minimal fee of £1".
The companies' previous ownership is convoluted but they appear to have been controlled by founder Jake Johnson, or other companies owned by him. In January this year, Johnson incorporated both Monarch Airlines and Monarch Holidays, holding their entire share capital.
Ellingham was also appointed as a director of another Johnson-controlled business, Flymonarch, in January, resigning on 18 August. The company never traded and is currently in the process of being dissolved.
He says the directorship of Flymonarch "was solely for nominal purposes" and he "never had any involvement" in its running.
How Ellingham was recruited in the first place, and by whom, is unclear but when Johnson announced he was dissolving his companies, Ellingham evidently decided to take the plunge.
Ellingham declines to reveal the identity of Monarch's backers but says this "should become clear in the coming weeks and months".
Neither Johnson, nor his Eurostig business, have any further involvement in either Monarch company.
Ellingham says he was attracted to the project "due to the longstanding goodwill associated with Monarch's name, where I felt that I would be able to make a considerable difference with its revival."
The residual affection for the Monarch brand, despite the public disruption caused by its collapse, meant there was little debate about its retention, says Ellingham: "We felt that sufficient time had passed since the collapse to enable a new company to evolve using the existing prowess of the name."
Although previous attempts to revive defunct airlines – Flybe, notably – have ended in failure, Ellingham thinks Monarch can succeed where others have not. "We intend to target very specific markets rather than the 'scattergun' approach of the Flybe reincarnation.
"Monarch also has a far clearer premise as a sustainable alternative to other, larger, carriers," he says.
And although much of the former airline's business has been absorbed by other UK carriers, Ellingham argues there are still gaps to be filled: "a portion" of the former Monarch's routes taken on by other carriers "do not retain any presence from integrated travel agencies", he says.
"It is also fair to say that Monarch's presence in Gibraltar and North Africa has largely been left vacant."
He says the carrier's "USPs revolve around sustainability and a slightly more premium brand than other [low-cost carriers]."
But in a sign of the potential complexities involved in the revival, it seems that despite the launch of a new website and presence on social media featuring Monarch's long-standing livery and distinctive logo, the revived company does not hold the trademarks for their use.
A search of the UK's trademark registry shows that We Love Holidays – an online travel agency – acquired both the logo and name in 2018 from the administrators of the previous Monarch Airlines.
Ellingham admits as much, adding: "This process [of acquiring the rights] has not yet taken place - Monarch has not yet begun trading, however all relevant discussions will be duly undertaken. I cannot state any further details."
However, it is unclear if We Love Holidays would sanction such use, given the potential competition presented by Monarch Holidays. We Love Holidays declined to comment.
An application for Monarch's air operator's certificate has not yet begun, and no talks with the UK regulator are so far scheduled. However, Ellingham says it hopes to "make initial contact" with the Civil Aviation Authority "in four to six weeks".
In common with its forerunner, the restored Monarch will use 15 aircraft – a mix of A319s and A320s – sourced "from a UK partner". The carrier is "exploring multiple options" for their financing, adds Ellingham.
Monarch's planned operating bases are also as-yet undisclosed; at its collapse in 2017, the carrier's previous incarnation had its hub at London Luton with additional bases at London Gatwick, Birmingham, Leeds-Bradford and Manchester airports. As part of the recent slew of corporate changes, the new airline moved its registered office to a serviced office facility near to Luton airport.
Ellingham says slots "where applicable" will be "acquired through the standard application route from Airport Coordinaton Limited", adding: "We may also explore purchasing and leasing options for constrained airfields."