Royal Jordanian believes disruption from the Israeli-Gaza conflict will badly affect fourth-quarter performance and set back the airline's efforts to return to profitability this year.
The carrier made profits at the nine-month point, said chief executive Samer Majali, speaking to FlightGlobal during the Arab Air Carriers Organization conference in Riyadh. But he adds that, for the full year, break-even was probably the "best we can hope for".
"I was telling my staff how we're now super-experienced in dealing with crises, as we lurch from one to the next in our part of the world," he says.
Majali states that the airline was supposed to be slightly profitable in the fourth quarter, and he had been expecting a full-year surplus.
"Now it's probably going to be wiped out," he says.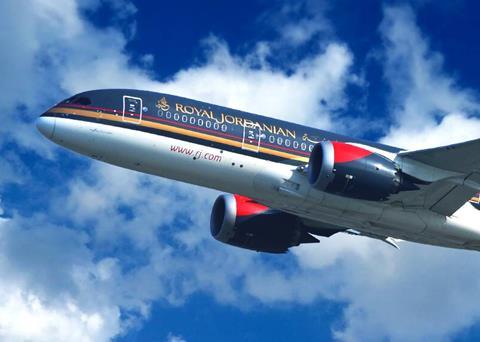 Jordan is an access point to the Levant region, but is geographically close to the conflict. Royal Jordanian, which is entering a tourism season, is recording a 10-15% reduction in reservations to the end of this year.
Along with this loss of revenues, the airline is also having to cope with higher fuel costs, as well as the suspension of Tel Aviv flights and the need to fly longer routes – over Egypt rather than Israel – to avoid conflict airspace.
"The biggest thing is flying over Israel," says Majali. "All of our western flights normally go over Israel. Now they have to go south, west, then north again – a dog-leg."
Majali says the airline has overcome a series of dramatic events which have directly or indirectly affected the region, but he finds the Israel-Gaza situation particularly frustrating.
"It's really a testament to the lack of global need to solve this 70-year old crisis, and the impact on human beings that it's had – not only directly but in the economic development of the region. The region has huge economic potential, huge tourism potential," he says.
"It's time for people to have the chance to develop, prosper and live peacefully. And the world is just not focused on fixing it."