Saudi Arabian flag-carrier Saudia's parent company is rebranding its various divisions as part of the transformation which has included developing a new livery for the airline.
The parent will be known as Saudia Group and will comprise 12 business units, several of which will adopt new names.
Its maintenance arm is being rebranded as Saudia Technic – from its previous identity as Saudia Aerospace Engineering Industries – while its training operation will be known as Saudia Academy.
Saudia Technic is developing an "MRO village", says the group, which will localise manufacturing and, through manufacturing partnerships, become an authorised service centre for the Middle East and North Africa region.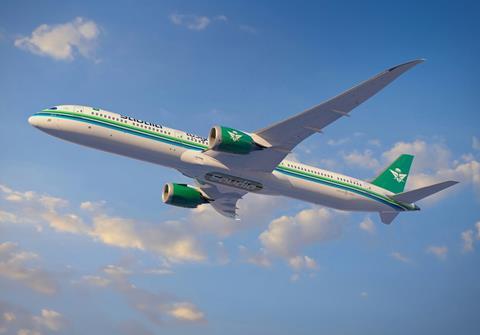 The group adds that Saudia Academy – which was previously called Prince Sultan Aviation Academy – has plans to transform into a "specialised" facility at regional level, with international accreditation.
Saudia Group, which also includes budget carrier Flyadeal, is aiming to expand its aircraft fleet to 318 serving a network of 175 destinations, according to director general Ibrahim Al Omar.
"The new brand offers much more than an evolution of our visual identity, but rather a celebration of all that we have achieved," he says.
"We are entering a new era, and we believe that we now have everything in place to deliver on our promise to bring the world to Saudi Arabia and demonstrate what the kingdom has to offer from a tourism and business perspective."
The rebranding is in line with the government's ambitious Vision 2030 initiative which aims to bring 100 million visitors to the kingdom by the end of the decade and establish 250 routes from Saudi airports.
Saudia Group has renamed its catering arm as Catrion, while the overhaul also covers business units Saudia Private – its charter and aircraft management arm – as well as Saudia Cargo, Saudia Real Estate, Saudia Royal Fleet and other operations.