South Korea's Minister of Land, Infrastructure and Transport (MOLIT) has imposed fines totaling W810 million ($682,000) on Jeju Air, T'way Air and Air Seoul for flouting safety rules.
Three incidents involved Jeju Air. In February, during takeoff and landing of flight 8401 between Seoul Incheon and Qingdao, the aircraft's braking system malfunctioned and the crew failed to comply with operating procedures. This incident alone drew a fine of W600 million, while the captain and first officer were each suspended for 30 days.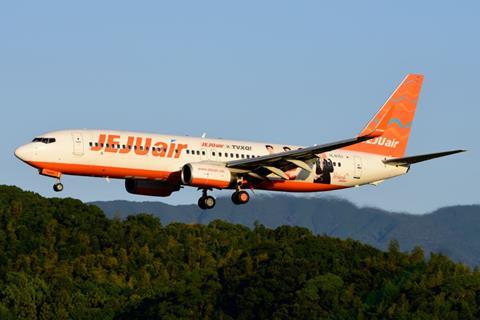 In a second incident, Jeju Air was rapped for losing communication with air traffic control due to operational error on the pilot's part. This happened in July, on board flight 2305 between Seoul Incheon and Manilla.
Separately, two captains and two first officers were each suspended for 30 days for taking off from Gimpo airport without air traffic control's permission, on a domestic service to Jeju.
Meanwhile, Air Seoul's cabin crew were charged with neglecting their duties, having been detained by the Ministry of Homeland Security prior to a flight.
T'way Air had a captain and first officer suspended for 15 days each, for entering the runway at Gwangju airport without permission from air traffic control during a domestic flight.
Other cases cited were misdemeanours relating to aviation medical examiners, and an air traffic controller who neglected duties.
MOLIT sayst it will continue to reinforce airline safety supervision to ensure safety in air traffic. Any violation of safety laws will be severely dealt with to prevent recurrence of similar violations.
In particular, minister Kim Hyun-mi stressed that the management of the airline industry will be difficult, but airlines will be thoroughly supervised to ensure that they do not neglect safety management such as investing in safety.
Despite its encouraging attitude towards the LCC sector, the South Korean government has tightened its grip on safety issues in recent years. MOLIT last revised its entrance requirements for start-up airlines in 2018 to improve quality and stability.