Lufthansa Group carrier Swiss is to configure its Airbus A350-900s with four classes, including a small number of first-class seats plus a premium-economy section.
Swiss is to introduce the A350s to replace its long-haul A340-300 fleet.
The airline has disclosed that the twinjets will be fitted with 242 seats, of which three will be first class.
"With our new cabin concept, we will still remain the only major airline in the world to offer a first-class cabin on all its long-haul aircraft," says Swiss chief commercial officer Tamur Goudarzi Pour.
Swiss adds that the aircraft will have a 45-seat business section, plus 38 premium-economy and 156 economy seats.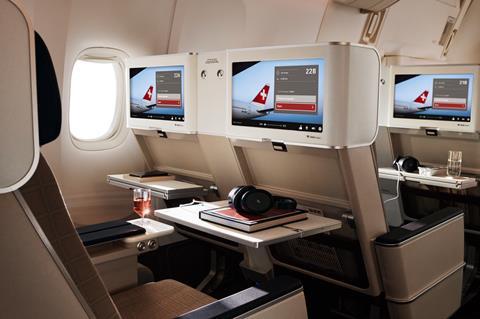 It says that there is "growing demand" for premium-economy travel, notably among leisure passengers, and the premium-economy cabin on the A350s will be "substantially larger" than that on other Swiss long-haul aircraft.
Swiss will bring in the five A350s from 2025. It says the seating decision, and the arrangement of other fittings, finalises the interior design for the type.
It adds that the aircraft will feature the 'Swiss Senses' cabin concept aimed at offering passengers a "totally new and more personalised" flight.