Dutch carrier Transavia has cancelled hundreds of flights through to the end of June as it grapples with a shortage of aircraft.
On top of the 5% of flights already axed in April and May because of the capacity shortage, the carrier said on 16 May that a further four flights per day have been cancelled through to the end of May, while on most days in June between 10 and 20 flights have been culled. The cancellations include services from its Amsterdam, Eindhoven and Rotterdam bases.
The Air France-KLM budget operator says the action is necessary because it has six fewer aircraft than planned going into the summer peak season: three because of delayed deliveries of jets, two because of repairs needed to aircraft involved in collisions with ground vehicles, and one because of late-running maintenance work.
In the latter two cases, the carrier cites repair and maintenance delays caused by the shortage of spare parts that has been felt across the industry as it emerges from the Covid-19 crisis.
Reports suggest the delayed aircraft deliveries relate to Transavia's leasing of several Boeing 737-800s that used to be operated by grounded Romanian carrier Blue Air. Transavia had previously cited delays in the commissioning of some of those aircraft.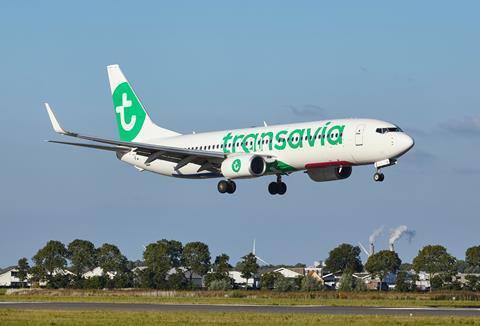 Transavia notes that "more than 95% of our flights continue as planned", but warns it is yet to establish whether cancellations will need to continue into July and August. It will release more details for those months on 25 May, it says.
Alongside Transavia France, Transavia's Dutch operation has been leading the capacity recovery at Air France-KLM, with the two carriers recently forecast to operate a combined 135% of 2019 available seat kilometres this year, versus a group total of 95%.
The budget operation had 104 aircraft in its fleet at the end of the first quarter of 2023, including 100 Boeing 737-800s and four 737-700s. Around one-third of those jets were operated by Transavia in the Netherlands, with the remainder flown by Transavia France. On top of those 104 aircraft, Cirium data shows Transavia currently has a handful of aircraft on wet-lease, including two Airbus A320s at the Dutch unit.
As part of an Air France-KLM order placed in 2021 and a smaller lease deal announced with Air Lease earlier this year, the two Transavia units are due to begin replacing their 737 fleets with A320neo-family jets from later this year.