A curious consequence of the Covid-19 recovery has become apparent during the current earnings season, as domestic-focused US carriers report a stronger-than-expected shift in pent-up demand towards international, long-haul flying.
This development has its origins in the summer of 2022, which was marked by a resurgence in demand for domestic travel in the USA, accompanied by the ramping up of international traffic as more and more governments dropped pandemic-era travel restrictions.
This summer – with international travel restrictions fully lifted – carriers including Alaska Airlines, Frontier Airlines, JetBlue and Spirit Airlines all commented on a change in the post-Covid demand dynamic during their recent earnings calls. Put simply, people are spending their money on longer-haul flying at the expense of the shorter trips they enjoyed last year, with travel "skewing very, very heavily to Europe", according to Frontier.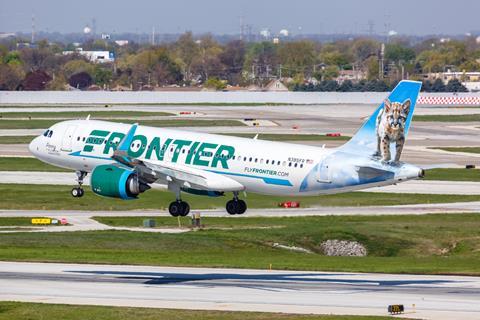 "As a primarily domestic leisure carrier, this summer presents a unique situation with the unprecedented surge in international demand, not dissimilar to the domestic surge last year," said Alaska Airlines chief executive Ben Minicucci as his carrier reported a profitable second quarter.
"We believe pent-up international demand has had the effect of a larger pull from would-be domestic travellers than has historically been the case."
Indeed, there is a sense from many executives that this will be a short-term phenomenon, as the whole market normalises going into 2024. But it is nonetheless having a financial impact on airlines.
Frontier chief executive Barry Biffle describes "the big shift to go to Europe this summer", saying "it takes money" away from the ultra-low-cost carrier.
"We surveyed our customers, not the whole travelling public, and when we lose 5% of our people to [flights to] Europe, that's a lot of customers… and they're spending a lot of money to go on those trips.
"So that is a pretty big dip, but we think that it will normalise, just like we saw huge spikes to Florida and other places when the pent-up demand [for domestic travel] hit last year.
"The question is, is it three more months, or is it six more months?" he asks.
JetBlue president Joanna Geraghty meanwhile describes "a greater than expected shift of pent-up Covid demand to long-haul international markets" during the carrier's quarterly earnings call. That is "pressuring demand for domestic travel during the peak summer travel period", she says, and was one of the reasons for the carrier's lowered profit guidance for the full year.
And speaking on a 3 August earnings call, Spirit Airlines chief executive Ted Christie said: "This summer we are comparing to a period of exceptionally strong domestic and near-field international demand in 2022, while at the same time seeing demand shift away from these regions towards long-haul international."
Analysts point out that the shift in demand dynamic is likely to be enjoyed by the 'big three' US network carriers, who commit more of their capacity to international services. But the temporary nature of the surge in demand will also be noted by those players – and Europe's 'big three' airline groups, who also highlighted the strength of transatlantic markets during their second-quarter earnings calls.
For now, the moderation of US domestic demand is likely to lead fares in that market trending more in line with pre-Covid levels, while ticket prices remain elevated for the high-demand international routes.