The US Senate has confirmed Pete Buttigieg to lead the Department of Transportation (DOT) under the administration of President Joe Biden.
Buttigieg, 39, is former mayor of South Bend, Indiana, and also ran for president in 2020. He is the youngest person to be confirmed to head the DOT, and the first openly gay member of the Cabinet.
Buttigieg succeeds Elaine Chao, who held the post for almost four years during the previous administration.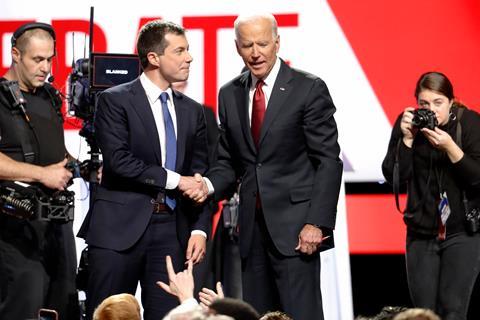 The Senate approved Buttigieg by a 86-13 vote. He responded on Twitter, saying he is "honoured and humbled by today's vote in the Senate – and ready to get to work".
Industry trade groups welcomed the confirmation. Buttigieg will be tasked to work on infrastructure issues as well as the development of new technologies like electric vehicles, and helping manage the country's pandemic-related travel restrictions.
The Federal Aviation Administration falls under the DOT.
Airline trade group Airlines for America (A4A) says Buttigieg has a "proven track record of… partnering with industry in a productive manner".
"As the Biden Administration looks to enact comprehensive infrastructure investment, we look forward to working with Secretary Buttigieg to continue prioritising the safety and health of passengers and employees as our industry and the nation looks to recover from the Covid-19 pandemic – the most devastating crisis the airline industry has ever experienced," A4A chief executive Nicolas Calio says.
The Biden administration has made fighting the global pandemic a top priority and in its first two weeks introduced numerous stricter measures to stem the spread of the coronavirus.
Since 26 January, all inbound travellers from overseas are required to prove a negative test result prior to boarding a US-bound aircraft. In addition, the government extended entry bans to travellers from numerous European countries, Brazil and South Africa. A nationwide mask mandate on all public transportation, which includes flights, has also taken effect.
New York's JetBlue Airways says it is looking forward to collaborating with Buttigieg on issues ranging from climate change to pandemic recovery.
"Secretary Buttigieg brings to the role a strong understanding of the importance of infrastructure investment, which we're hopeful will include modernising the nation's air traffic control system, a top priority for JetBlue," says Robin Hayes, the airline's chief executive.
Aerospace Industries Association (AIA) says it will look to Buttigieg for cooperation in "rebuilding and re-imagining our infrastructure, while investing in the technologies that will revolutionise the way people and products move".
"Through innovations like advanced air mobility, more-sustainable aviation technologies and fuels, and commercial space transportation, the aerospace and defence industry will help define the future of travel in the US and around the world," AIA chief executive Eric Fanning says.