Shareholders of Russian carrier Utair are to consider a debt-to-equity swap as part of a continuing restructuring of the airline's finances.
Utair says shareholders including AK-Invest and Neft-Consulting as well as carrier group's own maintenance division Utair Engineering are set to take part in the swap.
"The airline's debts to these lenders [will be] converted into shares," says the carrier.
Utair's supervisory board, in a 3 June meeting, voted to put a proposal to shareholders seeking an increase Utair's authorised capital through the placement of additional shares.
It says over 4.19 billion shares will be included in the placement, with shareholders having the pre-emptive right to purchase the stock at Rb3.25 ($0.04).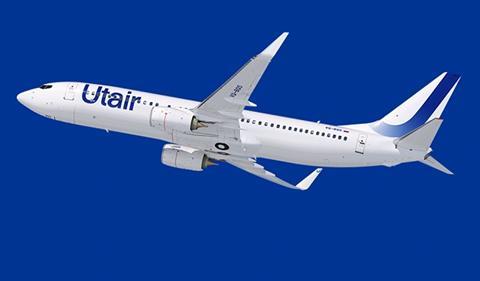 The company says the form of payment for the additional shares will be cash, including the possibility of paying for the stock by "offsetting monetary claims".
"We are entering the final stage of restructuring," says general director Andrei Martirosov. "For its successful completion, it is extremely important to secure the approval of shareholders."
Utair says the measure will "significantly reduce" the company's debt burden. Liabilities to other creditors will remain but the company says their terms will be changed, referring to a similar amendment, at the end of last year, concerning a loan from Sberbank.
Shareholders are set to vote on the proposal at an extraordinary general meeting scheduled for 22 July.
Utair says an independent assessor determined the placement price of the shares, based on market value.
Its supervisory board is also proposing to determine the market value of shares the company holds in Beloyarsky airport – a total of 750 – a facility in Utair's base territory of Khanty-Mansiysk.
Utair is a core operation of Utair Group, one of the largest aviation companies in Russia with a variety of activities.
While Utair Group has been affected by the pandemic, it attributes its difficult financial position to "macroeconomic shocks" over 2014-15, followed by a deterioration in the Russian aviation industry in 2018 – driven by competitive pressures and an increase in fuel prices.
At the end of last year it had negative net assets of nearly Rb25 billion, with current liabilities exceeding current assets by Rb51.5 billion – although this was a reduction from the end-2019 figure of Rb75.3 billion.
Utair Group also generated a net profit in 2020 of Rb3.1 billion compared with a loss of Rb5.9 billion in the previous year.