IATA director general Willie Walsh is urging other regions not to repeat what he calls the mistakes policy-makers in Europe have made in tackling aviation's impact on environment.
Speaking during the ALTA AGM and Airline Leaders Forum in Cancun on 23 October, Walsh said that policies should be based on "science, facts and data" rather than "on emotion".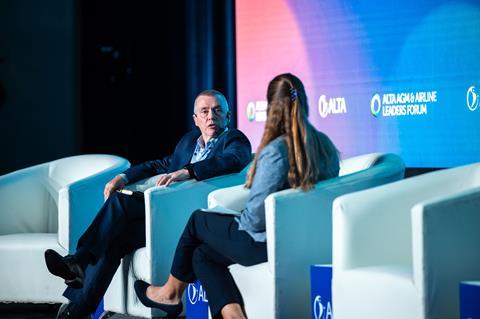 "I think in Europe the debate is driven by what appears to be popular politically, rather than what is right for the environment longer term," he says. "I just hope that other regions look at mistakes Europe is making – and I think they are making a lot of mistakes – and recognise some of these decisions would be completely wrong for their region. So I'm hoping we have a more informed debate."
While referencing moves to cut capacity at airports – IATA and airlines are challenging a Dutch move to reduce movements at Amsterdam Schiphol airport – and environmental taxes, Walsh reserves much of his ire for the French ban on short-haul flights. He believes this policy, which has prompted the outlawing of just a handful of domestic routes out of Paris Orly, does not address the key challenge.
"It is seen as politically very popular. And the reality of that is the environmental benefit of that decision of France is zero," Walsh says.
Citing data from a Eurocontrol report, he adds: "If you look at short-haul flying in Europe – and I think this will typically apply to other parts of the world – if you were to stop all flying of less than 500km, you would reduce the number of flights by 24%, but you would reduce the CO2 from the industry by 3.8%.
"Politically, stopping short-haul flying looks very popular, but it's not addressing the environmental issue – because the environmental challenge we face is from long-haul flying. 80% of CO2 produced by the industry comes from flights greater than 1,500km where there is no alternative means of transport."
Walsh also questions the idea of governments mandating airlines to hit sustainable aviation fuel (SAF) usage levels by the end of this decade, while not providing incentives for a step-up in the development of SAF production.
"In Europe what we are seeing is a lot of airlines are committing to 10% of SAF by 2030. Now Europe will not develop 10% SAF by 2030, in fact it will be well short of it. So these airlines that are determined – and for their own credibility – probably have to reach that target, are going to end up buying sustainable fuel from the US," Walsh says, noting airlines may be forced to ship the fuel from the USA to Europe in order to use it.
He also believes mandates potentially set unrealistic expectations for those regions, such as Latin America, where SAF production is currently limited.
"The problem is it [a mandate] will be misunderstood by people, because if not everybody reaches that global target, they will be seen to be failing in ambition," Walsh says. "But when you don't have a single drop of SAF being produced in the region, how do people expect airlines here to operate at the same pace as airlines in the US or in Europe?
"This is the crazy thing, where we have mandates where airlines are mandated to use SAF," Walsh says. "But they are mandated to buy something that doesn't exist, which again is madness, and again where you can't fulfil the mandate, you are financially penalised."