Norwegian regional Wideroe is aiming to test zero-emissions aircraft in commercial operations within four years, introduce such aircraft into its mainline fleet in the coming decade. and is studying the use of eVTOL (electric vertical take-off and landing) types.
"We have a pretty-clear ambition for the next 10 years where we want to see a full zero-emissions aircraft enter into service in 2026 or 2027 in Norway," says Andreas Kollbye Aks, head of strategy at the carrier and chief executive of its subsidiary Wideroe Zero, speaking to FlightGlobal.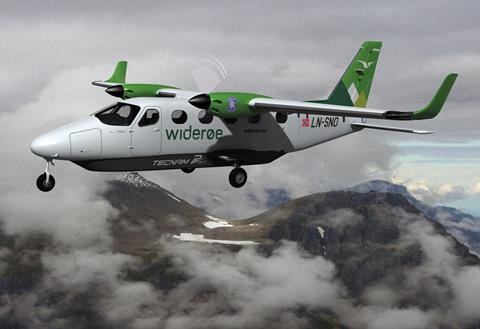 It plans to begin operations with the all-electric Italian-built Tecnam P-Volt nine-seater aircraft in 2026 at the earliest as its first foray with an all-electric type.
This will be followed at the end of the decade by a 40 to 70-seat regional aircraft and Wideroe Zero will also experiment with eVTOL aircraft when these become available.
Introducing the Italian-made P-Volt is effectively a "commercial testing project" for Wideroe Zero which will evaluate how this technology works in scheduled service and "to build a business model as commercially viable as truly possible around that aircraft," says Aks. "It is too early to say whether we would need more support and to what extent a taxation regime [will be needed] to support this idea."
Wideroe Zero was formed by the airline to manage its sustainability innovation and development independent to and undistracted by the core airline business.
It plans to operate a fleet of 5-10 P-Volts, the idea being to have a sizeable fleet to make the commercial test large enough to gather strong data and prove the feasibility of such operations, says Aks. The P-Volt will initially be used on a small selection of regional routes as the performance of the type is assessed.
"It must be regionally focused, to really test out the technology, understand how you can build the operational model and understand how you can build a business around it," says Aks. "It is also important to understand how this is accepted by the market, what are the customer expectations, and how much more money can you ask from the customer if you are free from emissions flying with us?"
The constraints of the test, such as the limited size and range of the aircraft are acknowledged by Aks, but the airline may discover a new way to look at regional services. The regional types in service today lend themselves to a hub-and-spoke network but it could be that new technology aircraft give an economical way to offer more direct flights.
"It may be that we will end up flying in a different way," says Aks. "This can be challenging for an existing airline, so we wanted to be free to think about all these things."
"From 2030 onwards I expect a large-scale introduction of zero-emissions aircraft," says Aks. "We have a pretty clear vision for the next 10 years…the challenge is we need to make decisions on what to invest in as an airline in the next 2-3 years."
The hope is that by the turn of the decade an all-electric regional in the 40 to 70-seater class, "depending on what the technology allows", will be available enabling Widerøe to introduce a larger type in the 2030-2035 timeframe, says Aks. This is the timescale in which Widerøe will have to replace its ageing De Havilland Dash 8 fleet.
The carrier is working with the manufacturer on a life extension programme for the aircraft to enable it to continue operating the Dash 8 until a next generation type is available.
Widerøe has been working with Rolls-Royce for several years on sustainability projects, and at July's Farnborough air show was named as the first airline to join Embraer's Energia Advisory Group.
Embraer unveiled the phased Energia aircraft roadmap at Farnborough. This envisages the arrival of a 35 to 50-seat hybrid-electric regional by 2031, an all-electric type by 2035 and one powered by hydrogen by 2040.
Earlier this year, Wideroe linked up with Embraer and Rolls-Royce on a 12-month study for a conceptual zero-emission regional aircraft seeking to understand the propulsion and operational options for such types. The airline's role is to support the manufacturers to help "crack the code" of how to operate zero-emission aircraft successfully, says Aks.
Part of the challenge is to bring more momentum to zero-emission aircraft development. "There is a need to build a market big enough for these technologies. We cannot have a custom-built solution for Norway there has to be an industry-wide project," says Aks.
Widerøe Zero is one of a growing band of airlines supporting the introduction of eVTOL aircraft. The carrier has a memorandum of understanding with Embraer's Eve to collaborate on the development of Eve's 4-8 seat urban air mobility aircraft. Aks is also on the advisory board of Eve.