European regulators have published proposed certification guidance for the new wave of hybrid and electric vertical take-off and landing (eVTOL) aircraft, in a move designed to reflect the relative maturity of the platforms being proposed by developers.
Published on 25 May, the guidelines are described by the European Union Aviation Safety Agency (EASA) as "the latest milestone in its roadmap to enable safe VTOL operations and new air mobility in Europe".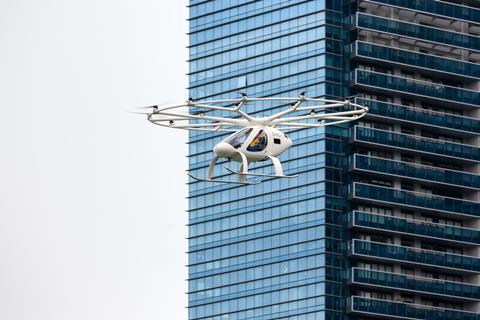 EASA laid the first "building block" for the regulations in July 2019 with the publication of the certification framework – known as "Special Condition VTOL" - for manufacturers to start developing "innovative" air taxi vehicles.
The "second block" proposes certification requirements for electric and/or hybrid propulsion systems, and is currently subject to a public consultation running until 19 June.
"Now that the industry is moving from prototypes into more mature designs, guidance on how to comply with the certification requirements is needed," says EASA.
This "third block" proposes means of compliance for key certification requirements such as the structural design envelope, flight-load conditions, crashworthiness, capability after bird impact, design of fly-by-wire systems, safety assessment processes, lightning protection and minimum handling qualities.
These requirements have been included in the guidance, EASA says, following discussion with industry assocations, developers and representatives from aviation authorities worldwide.
"The requirements and guidance cater for a wide variety of flying vehicle architectures and enable innovative designs," it says.
The scope for the guidance remains "person-carrying small VTOL aircraft with three or more lift/thrust units used to generate powered lift and control", EASA adds.
According to consultancy Oliver Wyman, there are more than 150 passenger eVTOL programmes in various stages of development.
These range from start-ups such as Germany's Volcopter and China's eHang - whose two-seat prototypes are now in flight testing - to the established airframers including Airbus, Bell, Boeing, and Embraer, whose programmes are in early stages of development.