North Carolina private aviation provider FlyExclusive has been disclosed as the fleet launch customer of Textron Aviation's newly revealed Cessna Citation CJ3 Gen2 light jet.
"The Citation CJ3 Gen2… raises the bar in the light-jet market and is part of the next phase of FlyExclusive's fleet modernisation efforts," says Wichita-based Textron Aviation, which owns the Cessna brand.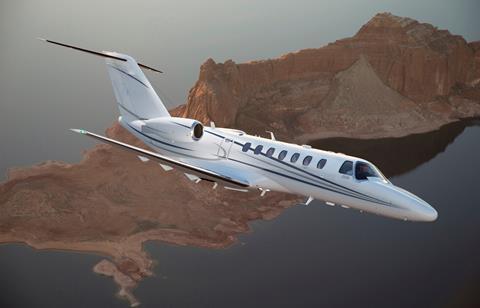 Last year, FlyExclusive said it was modernising its fleet with up to 44 new Textron Aviation business jets, including as many as 30 of the CJ3+, the current in-production variant of the aircraft.
FlyExclusive's fleet now includes about 90 aircraft, among them Citation Encores, Excels, CJ3s, Sovereigns and Xs, alongside Gulfstream GIV-SPs.
"We take pride in being the fleet launch customer for the Citation CJ3 Gen2, building on our decades-long relationship with Textron Aviation," says FlyExclusive chief executive Jim Segrave.
With the CJ3 Gen2, Textron Aviation is giving the light jet cabin updates and new advanced avionics, including an auto-throttle system. It expects the CJ3 Gen2 will enter service in in 2025.
Like the previous CJ3 variant, the Gen2 will have Williams International FJ44-3A engines and 2,040nm (3,778km) of range. It can be operated by a single pilot and carry up to nine passengers.