Slovakian developer has begun 50h flight test programme in bid to certificate road-to-air design
The decades-long dream of certificating the first flying car could be moving closer to reality with the first airborne sorties of Slovakian developer Klein Vision's AirCar.
The company believes it can have a production version of its design – which it claims transforms from road vehicle to aircraft in under 3min – on the market by the middle of next year.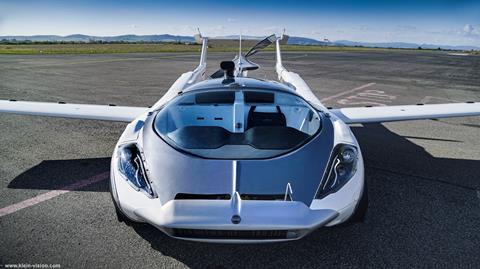 Founder and designer Stefan Klein completed two take-offs and landings from Piestany general aviation airport on 22 October. Each flight lasted just over 7min and saw the AirCar reach a speed of 108kt (200kmh) and altitude of almost 1,000ft.
Klein, a university professor of transportation design, has been working on his concept since the then-Czechoslovakia's Velvet Revolution of 1989 opened the country. The version that flew is his fifth, and has been in development since Klein and his co-founder Anton Zajac set up the company in 2016.
On the road, the AirCar looks much like a two-seat, low-slung sports car, except with a pusher propeller between a twin-boom tail supporting vertical stabilisers with rudders. The stabilisers are connected by a horizontal elevator. For flying mode, the booms extend hydraulically, while the 3.3m (10.8ft) wings unfold from the fuselage vertically, before extending 90 degrees to a horizontal position.
The prototype is powered by a 1.6-litre, six-cylinder, 140hp (104kW) BMW motorcycle engine that, in flying mode, drives a shaft attached to the propeller supplied by local firm DM Prop. A switch converts the steering wheel to a yoke that connects to the control surfaces.
"It really behaves like an aircraft in aircraft mode," says Klein.
He says the concept's four-wheel undercarriage creates a "self-lifting" fuselage shape that provides 27% of the lift, with dimensions – the body is 6.2m x 1.8m – that allow it to be parked in a conventional garage.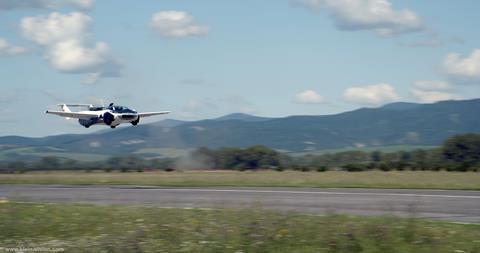 The composite aircraft weighs 1,100kg (2,430lb) and can carry a load of 200kg, says Klein. Slovakia has a rich heritage in light aircraft stretching back to communist times, and several suppliers, including fuselage builder SK Model, helped manufacture the prototype, it says.
The company plans to replace the BMW powerplant with a still-to-be-certificated aircraft engine from South African start-up Adapt Airmotive that Klein says should allow it to reach its "goal" of a 162kt top air speed.
Klein Vision plans around 50h of flight testing. Zajac, a successful investor in a number of companies, estimates that €2 million ($2.32 million) will be needed to achieve certification with a further €2-4 million to launch production.
Although the company will consider working with "strategic investors", he says there is enough financial backing to complete the project in-house.
"We've had a lot of inquiries in the last few days," he says. "We believe there is a huge market."
One of the other developers of a flying car, US firm Terrafugia, promises an update next year on the development of its twin-seat Transition, after being acquired in 2017 by China's Zhejiang Geely group, which owns Lotus and Volvo Cars.
Although the first flying car patent was filed in 1918, the idea has taken a long time to reach the market, as much because of regulatory hurdles as design challenges.
In August, New Hampshire became the first US state to legalise flying cars, so long as they conform with Federal Aviation Administration rules, are flown by a licensed pilot, and only take-off and land at airports – a hitch for those who dream of roaring along the freeway before rising to the skies above the traffic.