Rolls-Royce is gearing up for the first flight later this year of its Pearl 10X engine for the Dassault Aviation Falcon 10X having racked up more than 1,500h of ground runs to date using a variety of test assets.
To be performed from its facility in Tucson, Arizona using a company-owned Boeing 747 flight testbed, the maiden sortie will build on the first run of the full powerplant, including its bespoke Spirit Aerosystems nacelle, engine build up and mount system, which took place earlier in 2023.
Additional evaluations to date have included ground runs of other Pearl 10X engines and the Advance2 demonstrator, plus separate trials of the engine's new 3D-printed combustor, and the accessory gearbox.
Rolls-Royce says the Pearl 10X will be the most powerful business jet engine in its portfolio but has yet to specify an exact maximum thrust figure, save to say it will produce more than 18,000lb (80kN) of force.
Dr Phillip Zeller, senior vice-president Dassault at Rolls-Royce, says: "The combination of highly-efficient power and outstanding environmental performance of the Pearl 10X is in a class of its own and will support Dassault's Falcon 10X in setting new standards in the ultra-long-range corporate jet market.
"We are now looking forward to delivering the first engines for the flight-test campaign and I can't wait to see it taking to the skies for the first time."
Dassault selected the new engine when it launched the ultra-long-trange Falcon 10X in 2021 – the first time a Rolls-Royce powerplant has been picked by the French airframer.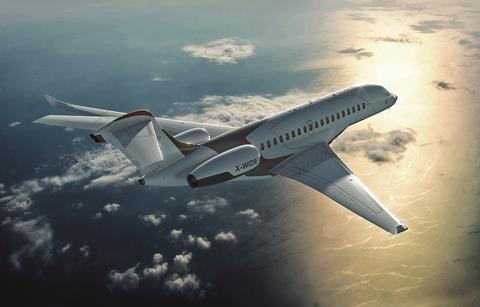 Innovations on the Pearl 10X include the ultra-efficient Advance2 two-spool core, including a 10-stage high-pressure compressor, a two-stage shroudless high-pressure turbine combined with a high-performance low-pressure system.
It shares a common architecture with the less powerful Pearl 700 for the Gulfstream G700, including a 132cm (52in)-diameter blisked fan.
However, internal difference such as 3D-printed tiles in the combustion chamber should allow it to better cope with the increased temperatures of higher-thrust operations.
Meanwhile, construction is progressing of Rolls-Royce's new 2,000sq m (21,500sq ft) production support facility in Le Haillan near Bordeaux, France. The facility, close to Dassault's final assembly line at Merignac, will house offices, a workshop and a warehouse.
Dassault expects the Falcon 10X to enter service in late 2025.

Dominic Perry is deputy editor of Flight International but also contributes extensively to flightglobal.com. Although specialising in the coverage of the helicopter industry, he has written on most topics in aerospace – be they commercial, defence or business aviation. In addition, there has been an increasing focus on the decarbonisation of the industry and zero-emission flight initiatives.