Swiss aviation pioneer and climate advocate Bertrand Piccard has a powerful and urgent message for the aviation and aerospace industries: innovate quickly, or risk losing your business to the realities of climate change. In the era of "flygskam", or flight shaming, and a younger generation's heightened awareness of the reality of a warming planet, it is up to industry players to embrace new ideas and transformational technologies – in everything from aircraft fuel burn to the cabin waste they discard.
The structural and operational changes will not only be good for the environment but also, says Piccard, for business. "Environmental protection has finally become profitable," he says. "So even for people who deny climate change, it would be logical as much as ecological to replace what is polluting with what is clean, because it creates more jobs and profit than the old, outdated and inefficient technologies."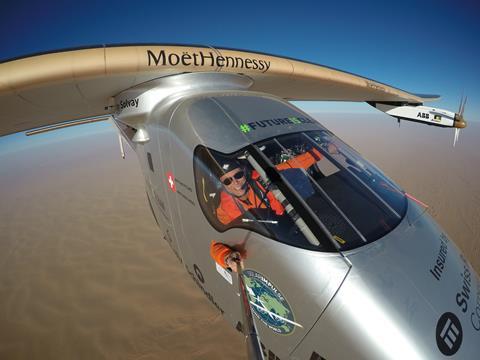 Piccard belongs to a dynasty of notable explorers and adventurers. His grandfather, Auguste, was a high-altitude balloonist, researching Earth's upper atmosphere and measuring cosmic radiation. His father, Jacques, was an oceanographer and undersea explorer, whose "Challenger Deep" mission reached the deepest known point of the earth's seabed in the Pacific Ocean's Mariana Trench in 1960.
Bertrand, a psychologist by training, continued the family tradition of scientific achievement, completing the first nonstop circumnavigation of the globe in the hot air balloon Breitling Orbiter 3 in 1999. Almost 20 years later, he circled the planet again, this time in a solar-powered aircraft called Solar Impulse 2.
After finishing the 21,600nm (40,000km) journey in 2016 – the first by a fixed-wing aircraft powered only by the sun – Piccard began to build a legacy for the project. He launched the Solar Impulse Foundation, a broad platform to study and promote sustainable technology, as well as to encourage governments to implement ambitious energy policies.
Lasting impact

"The Solar Impulse airplane flight around the world was an impactful symbol – we showed what we can do with renewable energy and clean technologies," Piccard says. "After this success I wanted to make it more practical and easier for people to understand."
Piccard launched his "1,000 solutions to protect the planet" challenge to collect, select and label technologies, products or systems that protect the environment, but at the same time generate financial benefits and secure jobs.
"I wanted to be able to speak the language of the people we need to convince – the language of job creation and profitability," he says. "Because if you only speak about protecting the environment to people who have only very short-term interests, investments and views, it's useless."
While the industry's current sustainability focus is primarily on alternative fuels, Piccard points out there are numerous measures across every aspect of the aviation and aerospace ecosystem that could bring significant results. He cites three specific areas of improvement: operational procedures, technology and politics.
"If a jumbo jet makes a constant-descent approach rather than an incremental approach, you can save 1t of kerosene for every landing," he says.
"If you have more direct routes across regions, it would be profitable. Right now you still have air traffic control areas who want to keep their authority, so airplanes must fly longer distances – and that makes it expensive for everybody. Then you have the possibility to bring airplanes to the runway threshold with electric trailers rather than to taxi on their own engine. All this is profitable. Airports can be carbon neutral using LED lamps and better building insulation – this is profitable too."
Offset emissions
However, jet fuel is aviation's number-one contributor to greenhouse gases, and several airlines (including Air France and JetBlue) recently announced that they will offset their fleets' emissions to become carbon neutral. Delta Air Lines, Lufthansa and United Airlines have made investments in biofuels. In this way, airlines have begun to reduce their carbon footprint and move towards the industry's long-term goal of cutting emissions to half of 2005 levels by 2050.
"It's clear that getting rid of all CO2 emissions is difficult, but offsetting is a good option. And it's not expensive. All airlines could be carbon neutral with a single administrative decision from management."
One of the foundation's 1,000 solutions is a software package called Skybreathe, which uses artificial intelligence and big data to help pilots reduce fuel consumption by up to 5% per flight without any modifications to the aircraft. "That is huge for any airline," Piccard says.
Despite this kind of success, Piccard says the time for incremental optimisation is over. Technologies must now be revolutionary if the aviation industry is to contribute to solving today's climate emergency in any meaningful way.
"If you look at the history of aviation, the first 50 years brought us from the Wright Brothers Flyer to the Boeing 707. Every innovation was disruptive. But since then, the airplanes have looked the same, there has been no innovation, just optimisation – less noise, less fuel, safer, more comfortable. We have to go back to innovation, and that innovation will bring hybrid power sources, electric airplanes, new types of shapes, designs and materials, and this is very promising."
Air France recently partnered with the Solar Impulse Foundation, committing to develop projects that support its environmental roadmap. These are not limited to engine efficiencies and improving fuel burn, but will also include alternatives to single-use plastics and cabin waste management, clean ground operations and noise reduction.
Even in light of these efforts, Piccard says that the industry has an image problem when it comes to carbon emissions. Ever since Swedish environmentalist Greta Thunberg shunned a jet in favour of travelling from Europe to North America by sea and back again, aviation has become a popular punching bag for climate-change activists, though it produces just 2% of annual global emissions.
Feline offenders
"Aviation is not worse than other industries. Streaming videos of sex and cats on the internet represents half of the emissions of CO2 of all of air transport around the world," Piccard says. "The textile industry produces 7% of global emissions. Houses produce 40%. People who live in a badly insulated house and stream cat movies – they criticise aviation."
Procedure modifications, state-of-the-art technologies and better story telling are one thing. But the biggest impediment to lasting change in terms of climate protection, which also applies to aviation, is the glacial speed of policy making.
But this, too, is shifting, Piccard says. "Politicians finally have an alibi to act. For the past year, young people have been demonstrating in the streets for climate action. This is new and this is what we need."
Piccard is optimistic that aviation industry leaders will make the necessary choices to remain responsible global citizens – if only for the sake of their bottom lines.