Textron Aviation is developing an updated variant of its Cessna Citation CJ3, bringing several cabin and cockpit changes to the light jet, including an auto-throttle system.
Revealed on 16 October, ahead of the NBAA show's opening, the $11 million CJ3 Gen2 is targeted for service entry in 2025.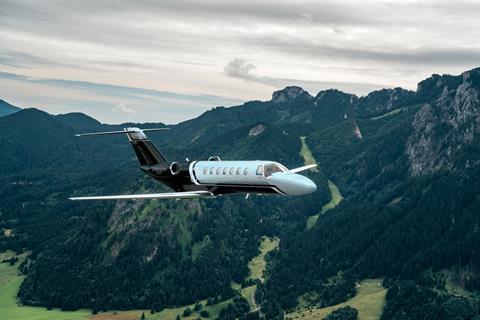 The move marks continued investment by Textron Aviation in the middle of its light-jet line-up. The nine-passenger, single-pilot CJ3 sits between the smaller M2 Gen2 and larger CJ4 Gen2.
Textron Aviation is showing off a mock-up of the CJ3 Gen2's cabin at the NBAA show.
"The upgrades to this airplane, front and back, really came out of customer suggestions," says Textron Aviation chief executive Ron Draper.
"We conducted a customer advisory board and brought in a number of current owners, and had them spend days here working through with our engineers on what features they would really love in the airplane."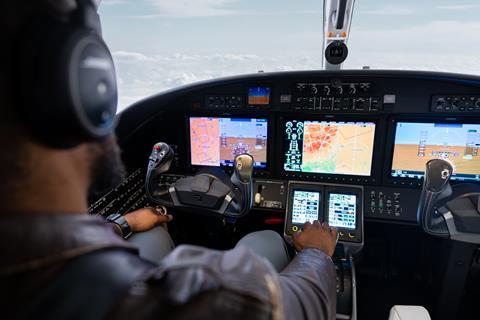 Textron Aviation's most recent upgrade of the light jet, which took place last decade, resulted in the CJ3+, a model featuring new Garmin G3000 avionics and updated cabin features.
For the CJ3 Gen2, Textron Aviation is sticking with the same Williams International FJ44-3A engines and holding to the jet's current 2,040nm (3,778km) range.
While the CJ3 Gen2 still has the G3000 flightdeck, it gains an auto-throttle as standard, helping to reduce pilot workload and improve safety.
Additionally, CJ3 Gen2s will boast 11.4cm (4.5in) more legroom for pilots, an optional enhanced vision system and a Garmin GDL 60 datalink, which can transmit flightplans, automatic database updates and aircraft diagnostics data, says Textron Aviation senior manager of technical marketing Jimmy Beeson.
"The CJ3 series is built upon 20 years of success in the marketplace," says Textron Aviation senior vice-president of global sales and flight operations Lannie O'Bannion. "There is nothing else in the market that competes with the CJ3 Gen2's cabin and performance."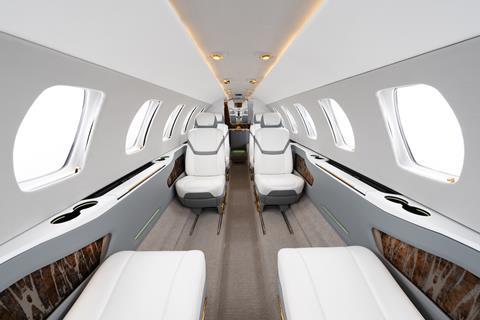 Cabin updates include new upholstery on seats and an "enhanced swivel" feature that lets owners position seats to best accommodate the number of people aboard, says Beeson. "That little feature allows you to change that cabin in a way that best fits your mission for the day."
Textron Aviation offers the twinjet with "sustainable" cabin materials like wool carpets. The CJ3 Gen2 will have new forward steps with a handle, improved entrance lighting, USB-C ports at every seat and a "top-loading" cabin table that deploys upward from its stowed position and folds down in a "single-handed operation", Beeson says.
In the forward area of the cabin, customers can opt for either a cabinet or a side-facing seat that folds down, providing more storage.
In another change, the CJ3 Gen2's lavatory will be serviceable from outside the cabin, rather than inside, as with previous iterations of the jet.
Textron Aviation has recently revealed updates to other products, offering a Garmin G5000 avionics retrofit for the Citation Excel XLS+ and XLS Gen2 jets, replacing the current Collins Aerospace's Pro Line suite.
The Citation M2 Gen2 now comes standard with Garmin auto-throttles. The company also recently delivered its 100th Citation Longitude, a 12-passenger jet certificated in 2019.