UMS Skeldar is expecting its V-150 unmanned air vehicle (UAV) to attract increased interest from potential buyers, after showcasing an ability for them to remotely trial the system even from "multiple continents" away.
The company says demonstrations conducted earlier this year involved operations with the vertical take-off and landing type being controlled from the UK and "the other side of the world", while the aircraft was being flown automatically in Switzerland.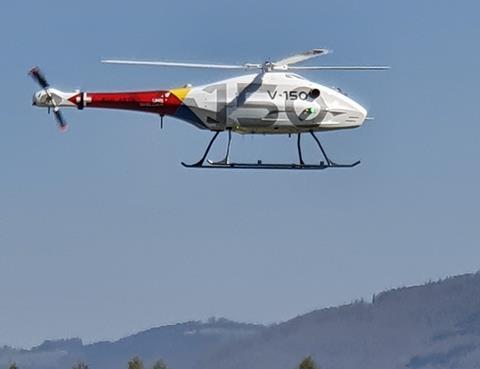 UMS Skeldar says the development will enable it to "provide remote product demonstrations to prospective customers across the globe, and give attendees the opportunity to fully test the system without leaving their base".
Head of product development Joschka Hofling says the process involves the company shipping a version of its remote pilot station to a prospective buyer, and delivering 1.5 days of specialist training to an operator with past experience of UAV operations.
During a flight which involves launch and monitoring by company personnel in Switzerland, such an operator can direct the V-150's mission or control its sensor payload.
Hofling says the process involves negligible latency; in the order of less than 0.5s. Should the user's internet connection experience problems, the company's monitoring pilot will take over and continue the mission without interruption, he adds.
The V-150 is equipped with an electro-optical/infrared sensor mounted beneath its nose, but UMS Skeldar is to expand flight testing this month and during October to trial the use of secondary payloads.
The company is targeting the V-150 primarily at "blue light" applications such as supporting police, search and rescue and border patrol tasks, but believes it also could have applications for military operators, for example during route monitoring.
Hofling says the company had been developing the remote capability for some time, with the intention of trialing it this year. "Then we were confronted with the coronavirus situation, where some people couldn't visit, so we said 'let's give it a try'. Within a couple of weeks we really got that going."
Meanwhile, he believes the use of such a capability could have operational benefits for some users. For example, by using a centralised mission control and data hub, a police service could reduce the number of personnel deployed to an incident scene, also cutting costs.