Germany's entire fleet of Eurofighter combat aircraft will be equipped with an in-development active electronically scanned array (AESA) radar from 2025.
Announcing a follow-on funding allocation worth almost €198 million ($208 million), the government's budget committee on 21 September said: "All [German] air force Eurofighters will be equipped with a modern E-scan radar".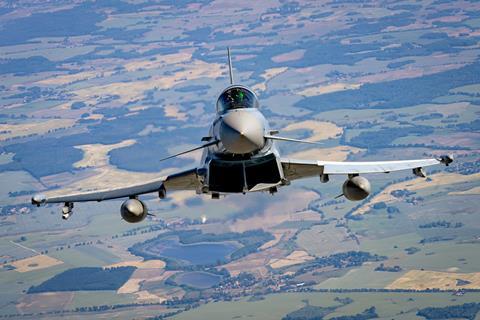 Berlin, which signed a combined development and production deal in 2020 under a collaborative project with Spain, says the additional money means "the planned equipment of the entire fleet from 2028 is to be secured".
"Newly ordered fighter jets will be delivered directly with the E-scan radar, as 38 Eurofighters will arrive in the force from 2025," Berlin says. This refers to its Project Quadriga contract, which will deliver replacements for already retired Tranche 1-standard jets.
"The remaining machines will have their radars retrofitted in the following years," Berlin says. Cirium data shows that the Luftwaffe has a current active fleet of 133 Eurofighters.
Germany and Spain are to equip their Eurofighters with the ECRS Mk1 radar, via their respective national Euroradar consortium partners Hensoldt and Indra.
The UK will field an ECRS Mk2 sensor with its 40 Tranche 3 Eurofighter Typhoons operationally by 2030, with the Leonardo UK-developed system to also offer an electronic attack capability. Italy and Saudi Arabia also have shown interest in acquiring the ECRS Mk2 for their Eurofighters.

Craig Hoyle joined Flight International in 2003, and has edited the now monthly title since 2015. He has reported on the UK, European and international military aviation sector for more than 25 years, and produces our annual World Air Forces directory.
View full Profile