Boeing believes military application of environmental considerations means defence capabilities will ultimately become more effective in the theatre of conflict.
While the civil aerospace industry is taking high-profile steps towards decarbonisation, Boeing argues that environmentally-aligned military policy is not a contradiction.
Speaking during the ILA air show in Berlin, Boeing international defence sustainability leader Steve Gillard said: "Sustainability and operational effectiveness are two sides of the same coin."
Gillard says climate change is a national security concern, but defence establishments have previously been slow to shift their thinking. Governments and society are expecting action, however, and there is evidence that the environment is becoming a priority within defence circles.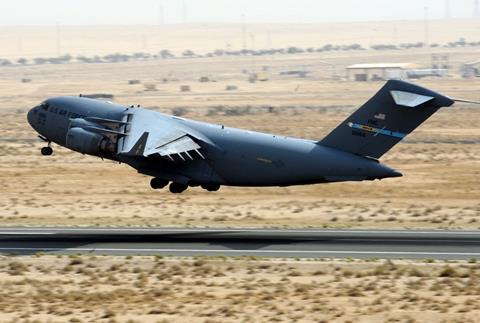 He says the UK Ministry of Defence argues that taking climate-change seriously is crucial to maintaining a "licence to operate" – the ability to recruit and attract the best talent, conduct military exercises without having to justify them, and to attract future funding.
"We recognise that within our own business as well," he says.
NATO, he adds, is looking at the implications of climate change, and mitigating the impact of military operations on the environment.
Gillard stresses that the focus is not about prioritising the environment during operational engagement, but recognising that operational effectiveness "absolutely is the prime driver in the armed forces".
"What we'll argue is that, when we apply sustainability, we can improve operational effectiveness," he states.
Modernisation of the aircraft fleet, for example, benefits military personnel through the introduction of advanced technology and improved capabilities, while data analytics could optimise the fuel performance of legacy aircraft.
The military can play a "vital role", Gillard adds, in the supply and scale-up of sustainable aviation fuel – which Boeing claims will be the fastest path to decarbonisation – by signalling that flying on such fuel is "the right thing to do".
Armed forces are "infrastructure heavy", he says, and an environmental approach would generate savings.
Boeing vice-president for global sustainable policy Brian Moran says the military is "starting to realise it has to make a contribution".