Boeing has kicked off a mission system upgrade for the US Navy's (USN's) fleet of EA-18G Growler electronic warfare jets.
The work will see the EA-18G receive a number of improvements, says Boeing. The Airborne Electronic Attack System Enhancement's modification will be applied to the Growler's Northrop Grumman ALQ-218 receiver, which will allow for operations in increasingly complex electromagnetic environments.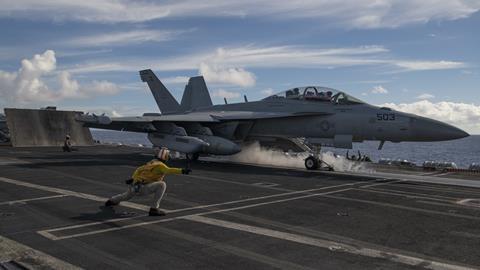 The upgrade will also enhance the Growler's ability to transfer data more rapidly to other aircraft and platforms, and processing speeds will be boosted. Preparations will also be made for the aircraft to eventually operate the developmental Next Generation Jammer.
Overall, 160 USN Growlers are expected to be upgraded in five years, with full-rate modification work to start in June 2021.
"We're excited to have the Growler industry team here working on capabilities that will bring the fleet enhanced electronic surveillance, enhanced data link and the ability to carry the Next Generation Jammer pod," says Captain Chris Bahner, commander, Electronic Attack Wing, US Pacific Fleet.
The work is taking place at NAS Whidbey Island, in Washington State. Several of the capabilities to be added are consistent with the USN's programme to upgrade the F/A-18E/F Super Hornet, on which the Growler is based, to the improved Block III standard.
"As the world's premier electronic attack platform, we're starting this programme for the EA-18G Growler in solid partnership with the navy," says Mark Sears, Boeing vice-president of Fighters & Strike Product Support.
"These modifications will position it to meet the threats of today and those in the future."
In May 2019, Boeing initiated design work related to upgrading the EA-18G. At the time, Boeing said the upgraded aircraft would be designated Growler Block II and include features such as the advanced cockpit system and conformal fuel tanks, as well as improved sensors and an upgraded electronic attack package.
The only other operator of the Growler is the Royal Australian Air Force, with 11 examples – a 12th aircraft was lost in a January 2018 engine fire.