Saab's new-generation Gripen E has entered frontline service with launch operator the Brazilian air force.
Brazil marked the milestone during a 19 December ceremony at Anapolis air base, the home to its First Air Defense Group. During the event, two of its locally designated F-39Es (registrations 4103 and 4104) were displayed before being parked alongside a Dassault Mirage 2000C – the already retired type that they are replacing.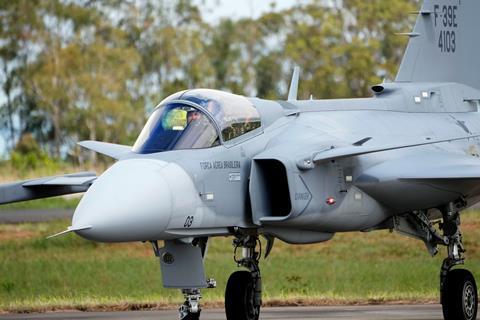 "The start of operational activities with Gripen E by the Brazilian air force… marks the beginning of a new operational era, but also is the result of years of hard work done in partnership with the air force and with our Brazilian industry partners," says Saab chief executive Micael Johansson.
"Brazil now has one of the most advanced fighters in the world," he adds.
Working with local development and production partner Embraer, plus AEL Sistemas, Akaer and Atech, Saab is currently delivering the "most extensive ongoing technology transfer programme in Brazil… bringing to the Brazilian defence industry the knowledge to develop, produce, test and maintain an advanced supersonic fighter", Johansson says.
Brazil welcomed its first Gripen E test aircraft in September 2020, with this used in support of development activities being performed at Embraer's Gaviao Peixoto site. Saab has so far shipped four operational examples to the country from a 36-aircraft acquisition, covering 28 single-seat examples and eight two-seat F-39Fs.
Saab also is on contract to produce 60 Gripen Es for the Swedish air force, which plans to declare the type operationally ready on 1 January 2025.
Craig Hoyle joined Flight International in 2003, and has edited the now monthly title since 2015. He has reported on the UK, European and international military aviation sector for more than 25 years, and produces our annual World Air Forces directory.