Beijing has released footage of a Xian Y-20U tanker with a pair of Chengdu J-20s for the first time.
The video, posted to Chinese military sites, shows the two fighters flying just aft of the tanker's extended under-wing hoses. It is not clear if the fighters made contacts or conducted an air-to-air refuelling.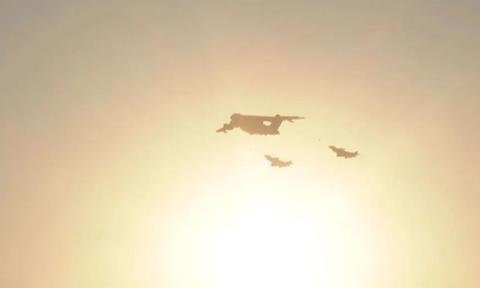 The release of the undated footage appears to coincide with China's national day, which is observed from 1-7 October. A previous video from Chinese broadcaster CCTV had showed a Shenyang J-16 and J-20 making contacts with a Y-20U.
In addition to its under-wing pods, the Y-20U also features a third refuelling hose and drogue system along its centreline, which is understood to be for larger Chinese types such as the Xian H-6N bomber and support aircraft.
It is believed that China is developing an updated version of the Y-20U using four Shenyang WS-20 turbofans – the engine that will also replace the Soloviev D-30KP2 on Y-20 tactical transports.
Given the WS-20's superior bypass ratio, Y-20s with this powerplant should be more efficient, and therefore capable of offloading more fuel.
The air-to-air refuelling activity with two J-20s comes two months after the People's Liberation Army Air Force (PLAAF) commissioned the Y-20U into frontline service.
At the time of the commissioning, China Daily quoted PLAAF Colonel Shen Jinke as saying that the type can undertake both air-to-air refuelling missions as well as standard personnel and cargo transport tasks.
An effective tanker force is essential if the PLAAF is to extend the range of its combat assets beyond the 'First Island Chain', which runs through countries such as Japan, Taiwan, and the Philippines.
So far, China is believed to have about four Y-20U tankers. Prior to the advent of the Y-20U, PLAAF tanking capabilities were limited to two dozen elderly Harbin H-6Us powered by obsolete WP-8 turbojets, and a trio of Ilyushin Il-78s.