Cobham Mission Systems has been awarded a contract to upgrade part of the Boeing T-45 Goshawk jet trainer's onboard oxygen generation system equipment for the US Navy (USN).
Announcing its receipt of the award from the US Naval Air Systems Command on 9 March, Cobham said the deal initially covers "production and delivery of two lots of GGU-25 oxygen concentrators". These will replace GGU-7 concentrators previously supplied by the same company.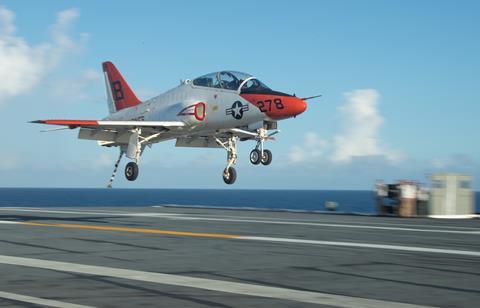 However, "This programme includes delivery of a fleet-wide oxygen concentrator legacy system upgrade for US Navy T-45 Goshawk jet trainers," it says.
The USN in 2017 reported several instances of physiological episodes – including hypoxia-like symptoms – affecting fixed-wing aircraft pilots, included four events on the T-45 fleet. The service grounded its Goshawks for a five-month period as a result of concerns over the potential contamination of oxygen supply.
"[The] GGU-25 delivers the required amount of oxygen to the pilot and also records key operational parameters in real time," Cobham says. "This data is extremely useful in troubleshooting any possible incidence of unexplained physiological episode during flight."
"We have advanced our oxygen concentrator technologies and design standards significantly in the last decade," notes Jason Apelquist, senior vice-president business development and strategy at Cobham Mission Systems. "This [upgrade] will ensure that navy pilots in training are provided an environment for adequate breathing under all conditions."
Cirium fleets data shows that the USN has a current active fleet of 194 T-45A/C. The Goshawk is a version of the BAE Systems Hawk adapted to perform training tasks on aircraft carriers.