Embraer could soon land its first customer for the C/KC-390 tactical transport from the Middle East or Asia-Pacific regions, company officials say.
Speaking on the opening day of the Dubai air show, Caetano Spuldaro, vice-president sales and marketing, Middle East and Asia-Pacific for Embraer Defense & Security, said the company hopes to add its existing customer list for the twinjet in the near future.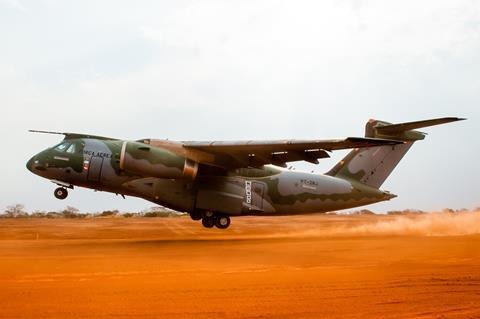 "We have seen a very good level of interest in the C-390 across both the Middle East and Asia-Pacific," Spuldaro says. "We are working actively on several prospects and sales campaigns. The very good momentum that the C-390 is creating with customers in Europe is now reaching the Middle East and Asia.
"We expect very soon to be able to communicate one of our first wins around this area," he adds.
Embraer officials will not reveal which nations could be in contention for a purchase, but the company has been actively promoting the twinjet to air forces in countries including India, Saudi Arabia and South Korea.
"It is a very hot moment for us in the MENA [Middle East and North Africa] region," notes Frederico Lemos, Embraer Defense & Security's chief commercial officer for international business.
The company has so far secured orders for its 26t payload-capacity transport and tanker from Brazil, Hungary and Portugal, with Austria, the Czech Republic and the Netherlands also planning to field the type. If all current planned purchases are finalised, its total order book for the type will stand at 37 aircraft.