The French, German and Spanish governments have launched the €3.2 billion ($3.4 billion) next phase of their Future Combat Air System (FCAS) programme.
Announced on 16 December, the Phase 1B development deal was signed on behalf of the partners by France's DGA defence procurement agency.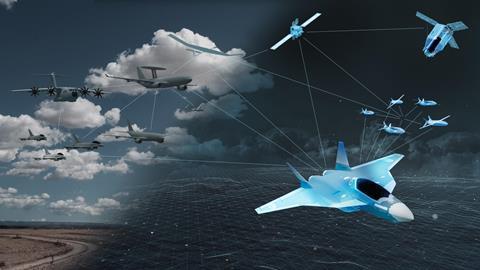 In a joint statement, industrial partners Airbus Defence & Space, Dassault Aviation, Indra and engine consortium EUMET hail the advance as enabling the development of "a powerful, innovative and fully European weapon system to meet the operational needs of the countries' armed forces".
On 1 December, an industrial agreement had been signed to progress the activity, following months of dispute between Airbus and Dassault over confirming the French company's role in leading development work on a New Generation Fighter (NGF) demonstrator.
"This is a real step forward after a difficult time," Airbus Defence & Space chief executive Michael Schoellhorn said of the pact on 12 December, during the company's annual Trade Media Briefing event in Madrid.
Work on the programme's Phase 1A activity concluded in early 2022, but protracted wrangling over workshare, and parliamentary elections in France and Germany, contributed to a delay of several months. The next phase will run until the partner nations sign a Phase 2 contract during 2025 to further advance the joint effort.
Flight demonstrations of the NGF demonstrator and other FCAS technologies are scheduled to take place from 2028-2029, under the terms of the new agreement.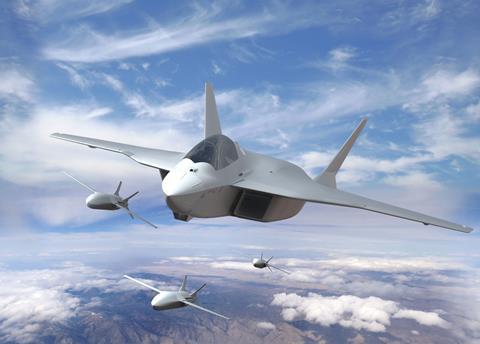 In addition to delivering a sixth-generation manned fighter, the European FCAS programme will provide capabilities including accompanying unmanned air vehicles – named remote carriers – and a network-enabled Combat Cloud.
Also speaking ahead of the contract signature, Airbus's FCAS programme head Bruno Fichefeux described the process of harmonising industrial priorities between the partner nations as having been a "difficult" process, due to the programme's strategic importance. "The interests and the motivations of each company are safeguarded, so now the stars are aligned politically, operationally and industrially," he adds.
Despite the delayed resumption of work, Fichefeux believes the FCAS venture is ready to soar, with around 2,500 personnel projected to be involved by this time in 2023.
"We are sure that launching Phase 1B together is the best approach for us," he says of all the parties involved. "We have 16 lead companies and an ecosystem behind working in the three countries.
"Programmes for the next generation [of combat aircraft] are moving ahead in the US and in the UK, and we need to keep the pace," he notes. "We think we are well ahead, because there is a significant financial commitment from the nations to fund this programme for the next eight years.
"There is already a framework, an ambition and a budget for Phase 2, which we are discussing as well with the nations," he adds.
Development priorities for the trinational NGF will include meeting shared operational goals, in addition to some specific national-only requirements, notably France's need for a future platform to be capable of carrying nuclear weapons and also landing on an aircraft carrier.
The partner nations want a new fighter to enter operational service around 2040, replacing some of their current Dassault Rafales and Eurofighter Typhoons. There also could be a future opportunity to add further nations to the venture.
"It's a European programme. Once it goes into full development it may be attractive to others beyond the three – probably in Europe to begin with," Schoellhorn says. "I don't think we will sign another nation in the next couple of years," he adds.

Craig Hoyle joined Flight International in 2003, and has edited the now monthly title since 2015. He has reported on the UK, European and international military aviation sector for more than 25 years, and produces our annual World Air Forces directory.
View full Profile