Indonesia's share of the costs for the developmental Korea Aerospace Industries (KAI) KF-21/I-FX remain a sticking point, with Jakarta to put forward a new payment schedule.
South Korean state news agency Yonhap quotes a senior South Korean official as saying that talks will take place, and that Jakarta will provide a new payment timeline by the end of June.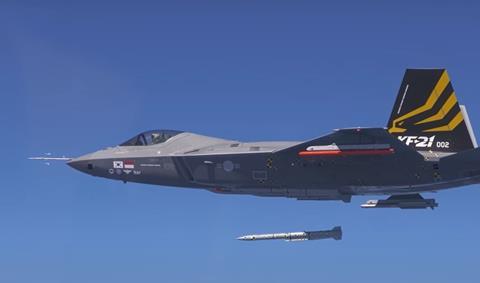 "Indonesia has promised to notify South Korea of its payment plan for the remaining amount by late June," says Eom Dong-hwan, head of Seoul's Defense Acquisition Program Administration.
"In order to ensure the payment plan proceeds normally next month, our project chief is scheduled to visit Indonesia soon for talks with high-level defence officials on its details."
Jakarta is a 20% partner in the W8.8 trillion ($6.7 billion) programme. After stopping payments in 2019, it finally recommenced payments in November 2022. Yonhap reports that it also made a W40 billion payment in February, but is still around W800 billion in arrears.
While Jakarta's attitude towards payments have raised questions about its commitment to the programme, in February Indonesia's deputy defence minister Wamenhan Herinda reiterated that Jakarta has a "big commitment" to the programme.
He said that Jakarta views the KF-21/I-FX programme as a strategic opportunity to "master high technology in the defence industry".
Meanwhile, flight tests with KF-21 prototypes continue. In April the second prototype launched a Diehl IRIS-T infrared homing air-to-air missile for the first time.
This followed tests in late March where the same prototype dropped a dummy round of the MBDA Meteor beyond-visual-range air-to-air missile, and also fired its General Dynamics M61A2 20mm Gatling gun.
Four KF-21 prototypes are conducting flight tests, including the first two-seater, which had its maiden flight in February.