Marshall Aerospace has unveiled a modular intelligence, surveillance and reconnaissance (ISR) modification for the Lockheed Martin C-130J, with the UK company also eyeing a range of other special mission applications for the tactical transport.
Revealed on 29 March, the proposal "is the first of several products that will be rolled out within the Marshall Adaptable Role-fit Capability (ARC) family in the near future", it says.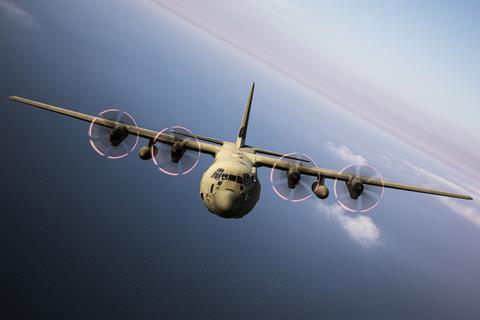 Named ARC-Radar, the update will enable operators to "rapidly and temporarily outfit their fleet for ISR missions", Marshall says. It describes the function as a "role-fit palletised solution with no permanent integration and no modifications required, utilising only existing aircraft power outlets".
Leonardo's Osprey 30 active electronically scanned array (AESA) radar forms the heart of the capability, with the ARC-Radar configuration using an articulated, two-panel system mounted on a rear pallet. A separate, forward-mounted pallet houses a related mission-management console.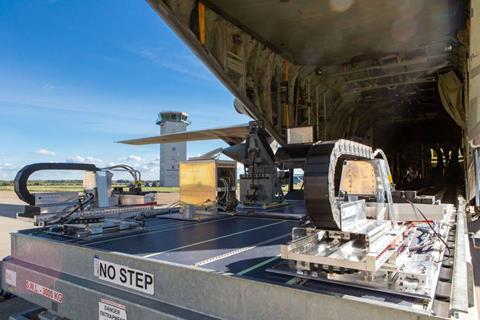 Other temporary updates include installation of two modified paratroop doors, fitted with Marshall-designed conformal radomes.
"There are no performance or handling penalties with the product installed," the company says, with fitting/removal time cited as under 4h.
The company recently conducted a flight trial with the radar installed on a C-130J. Describing this as a "product-proving sortie", Marshall says: "All radar modes were tested, and their performance thoroughly verified by Leonardo representatives on a range of static and moving targets of various sizes over both land and sea."
"Marshall's system using our Osprey 30 AESA radar demonstrated performance which looked as good as any similar system I have tested to date," says Stan Hargreaves, Leonardo's head of operational demonstrations, who participated in the flight trial.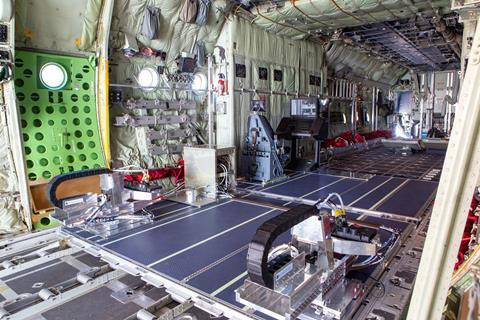 Leonardo quotes a maritime surveillance range of 200nm (370km) for its Osprey 30 system, which also features synthetic aperture radar and airborne modes.
Marshall describes potential applications for the ARC-Radar system as "remarkably broad, ranging from military ISR, land, sea or air missions, to applied civilian operations such as search and rescue, humanitarian support, and disaster relief".
"The operator could be transporting troops on a Monday and conducting an ISR mission on a Tuesday with the same aircraft," notes Ben Jakubowski, head of Marshall Aerospace's future products team.
Craig Hoyle joined Flight International in 2003, and has edited the now monthly title since 2015. He has reported on the UK, European and international military aviation sector for more than 25 years, and produces our annual World Air Forces directory.