Finland has ordered a new full mission simulator from Patria to support the continued use of its BAE Systems Hawk advanced jet trainer fleet.
"The simulator will be delivered to the Finnish air force in 2026… and will be an integral part of the Hawk's type training [and] tactical training phase," Patria says.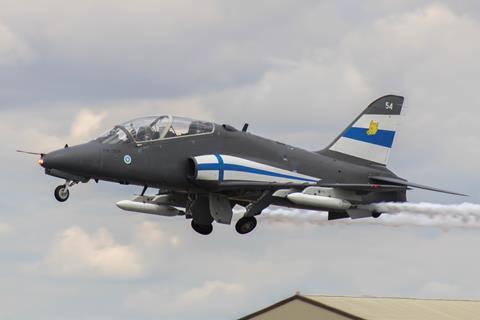 With the new device to be networked as part of a broader live, virtual and constructive (LVC) training system, "the pilot training path will be secured far into the future, also to the [Lockheed Martin] F-35 era," says Teemu Lahdekorpi, the official responsible for Patria's Air Force business area.
"With LVC training, it is possible to cost-effectively offer student pilots the most realistic and extensive training possible and support their transition to the fighter fleet," the company says.
Patria has already equipped the Finnish air force with mission and part task trainers for use within the Hawk fleet's training infrastructure.
"The new simulator will partially utilise the technology solutions implemented in these previously delivered simulators, but the accuracy and realism of the system modelling will be significantly higher," the company says.
Cirium fleets data shows that Finland has an active fleet of 35 Hawk 51/66s – including examples operated by its Midnight Hawks aerobatic display team – with its assets aged between 28 and 42 years.
The Finnish air force currently employs a frontline fleet of 62 Boeing F/A-18C/Ds, but will field a replacement inventory of 64 F-35As from later this decade.
Lockheed is due to deliver the first Finnish F-35As in 2025 to support US-based training, while Helsinki's lead operational examples will arrive in the NATO nation the following year. Full operational capability should be declared in 2030, when its last F/A-18s will also leave service.

Craig Hoyle joined Flight International in 2003, and has edited the now monthly title since 2015. He has reported on the UK, European and international military aviation sector for more than 25 years, and produces our annual World Air Forces directory.
View full Profile