Dassault Aviation and Airbus Defence & Space appear to be inching closer to an agreement on the crucial Phase 1B contract for the Future Combat Air System (FCAS) being developed by France, Germany and Spain.
Phase 1B covers the development of a demonstrator aircraft for the New Generation Fighter (NGF) element of FCAS, a contract for which was supposed to have been signed off no later than December 2021.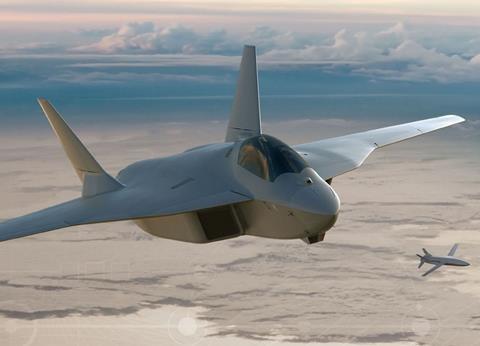 Although there appeared to be consensus among the nations, tension between their industrial champions Dassault and Airbus – representing France and Germany/Spain, respectively – regarding the role of each company on the NGF, has prevented the project from moving forward.
However, Dassault chief executive Eric Trappier, speaking to FlightGlobal at the recent NBAA business aviation show in Orlando, said negotiations with Airbus were now at "final stage" and should be completed "in the coming days or weeks".
Trappier appears confident that an agreement can be found that recognises Dassault's leadership role on the NGF, based on its long history of fighter development.
"If the rules are in line with what I have just said we are willing to co-operate," he says. "We will share the work but we need to have a leader."
Dassault is not seeking that role simply for the sake of being in charge, Trappier argues, but because it is best placed to do so in order to deliver the highest performing aircraft for its customers.
He also cautions that progress on the Phase 1B contract does not mean the NGF "will be a success", with the outcome only becoming apparent "in the coming years".
Trappier's latest comments are in contrast to his previous public pronouncements, where he appeared less certain of progress: speaking in July, he repeated calls for Airbus to "trust" Dassault with leadership of the NGF.
But at national level there is still broad alignment, with the French and German defence ministers in late September reaffirming their commitment to advance a number of joint defence projects, including the FCAS programme.

Dominic Perry is deputy editor of Flight International but also contributes extensively to flightglobal.com. Although specialising in the coverage of the helicopter industry, he has written on most topics in aerospace – be they commercial, defence or business aviation. In addition, there has been an increasing focus on the decarbonisation of the industry and zero-emission flight initiatives.
View full Profile