Embraer's C/KC-390 transport has achieved its entry into service milestone for a second operator, with the step also seeing Portugal become the first NATO member to field the type.
The service entry approval was made following a ceremony at Embraer's Gaviao Peixoto site in Brazil on 16 October. This was followed by the transfer of Portugal's lead aircraft – registered 26901 – to its Beja air base, southeast of Lisbon.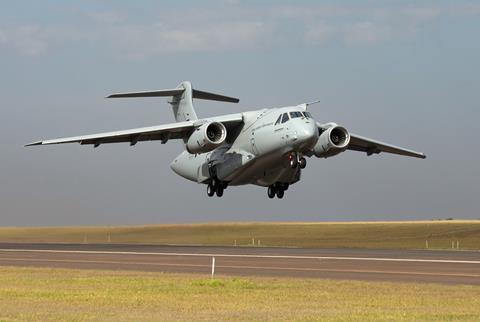 "The aircraft meets the requirements set by the National Aeronautical Authority of Portugal and includes standard NATO equipment," Embraer says.
"This is a wonderful time for us, as we witness the first KC-390 Millennium enter into service outside Brazil," says Embraer Defense & Security chief operating officer Walter Pinto Junior.
"Embraer and the Portuguese air force will continue working together to advance our long-term projects for years to come," he adds.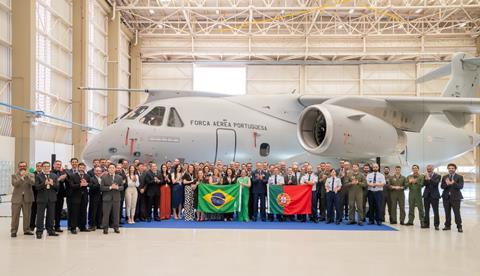 "The requirements set by the Portuguese air force have taken this aircraft to an even higher technological and capability level," says Brigadier General Joao Nogueira, president of the service's KC-390 programme supervision and monitoring mission. He describes the twinjet as being "capable of the most demanding operational scenarios".
Portugal will receive five of the type, under a contract signed in 2019, and holds an option to later add a further example. The new assets will replace its aged Lockheed Martin C-130Hs, three of which are currently operational, according to Cirium fleets data.
Brazil's air force currently has six KC-390s in use, from an eventual total of 19. NATO member Hungary also will field two examples, while Embraer is currently in negotiations to seal further deals with with Austria (4), the Czech Republic (2) and the Netherlands (5).