The UK Royal Air Force (RAF) will soon set out a further slip to the expected entry into service schedule for a delayed fleet of three Boeing E-7A airborne early warning and control (AEW&C) aircraft, with the service's chief of staff having detailed ongoing challenges with preparing the platforms.
Speaking before the House of Commons Defence Committee on 7 November, Air Chief Marshal Sir Richard Knighton said the E-7A's "initial operating capability [IOC] date will be confirmed when the full business accounts come forward".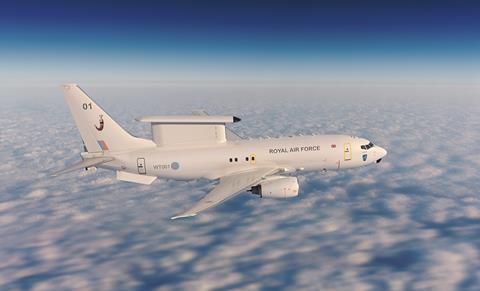 The Ministry of Defence's (MoD's) original programme schedule called for the E-7A to enter use this year. However, "There are clear signs that Boeing is unable to deliver against the timeline that it had set," Knighton says. His current expectation is that an IOC declaration will be possible during 2025.
"Over the next few weeks, I am expecting what the details around that plan for delivery will be, so that I can have assurance about the date," he adds.
"We continue to drive Boeing and the supply chain to deliver the capability as quickly as possible," Knighton says. Referencing the RAF's current capability gap in the AEW&C arena, he adds: "I want to see that in service as quickly as we can possibly make it."
The RAF retired its last Boeing E-3D Sentry airborne warning and control system aircraft in August 2021.
"There are a whole range of problems, and there is no one silver bullet or magic wand that we can wave over it," Knighton told the committee during its ongoing Armed Forces Readiness inquiry. "This requires us to drive Boeing, it requires Boeing to respond by driving its subcontractors, and it requires us to work tightly with the likes of the Military Aviation Authority, because certification will be a challenge and has been underestimated."
The Wedgetail configuration includes adding a fuselage extension to the baseline 737 airframe, plus strengthening to accommodate its roof-mounted Northrop Grumman Multi-role Electronically Scanned Array radar.
While the UK introduced its own challenges to the programme by cutting its original five-aircraft acquisition to just three airframes, Knighton says "Boeing took on a contract to deliver a capability in a timescale that it has been unable to do it in."
Boeing UK subcontracted extensive modification work on the trio of 737NGs – two used ex-VIP examples and a single new-build aircraft – to STS Aviation Services in Birmingham.
"We are working with the Ministry of Defence, and our suppliers, to refine the schedule for the UK's E-7 Wedgetail fleet entry into service," Boeing tells FlightGlobal. "That includes supporting the complex certification activity to ensure safety and quality.
"We are committed to delivering the most capable, combat-proven airborne early warning and control aircraft to support national security and regional stability for the UK and its allies," the company adds.
The UK's operational Wedgetail AEW1s will be based at RAF Lossiemouth in Scotland, alongside an in-service fleet of nine 737NG-based P-8A Poseidon maritime patrol aircraft.

Craig Hoyle joined Flight International in 2003, and has edited the now monthly title since 2015. He has reported on the UK, European and international military aviation sector for more than 25 years, and produces our annual World Air Forces directory.
View full Profile