The Royal Jordanian Air Force (RJAF) is to acquire 10 Bell 505s for training duties, under a deal signed with the US manufacturer on 1 November.
"The contract includes the delivery of the aircraft with a flight training device and a comprehensive computer-based training package," Bell says. The type's introduction will "enable an enhanced approach to basic and advanced rotorcraft flight training at the King Hussein Air College in Mafraq, Jordan", it adds.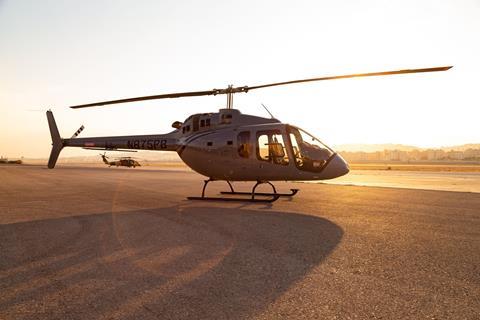 "We look forward to… providing our pilots with one of the best possible aircraft for their training," says RJAF commander Brigadier General Mohammad F Hiyasat. "The addition of 10 new aircraft will enable us to further expand our operations in the country, in turn increasing the capabilities of the Royal Jordanian Air Force."
Amman has a more than 130-strong combat helicopter fleet, with types including Bell AH-1 attack and UH-1H transport platforms and Sikorsky UH-60 Black Hawks, Cirium fleets data shows. It currently employs 12 Robinson R44s among its training assets.
Bell in early August delivered its 400th example of the 505, after launching the programme in 2017. The type is increasingly securing a role with military operators: Cirium data shows current users to be the Indonesian navy (two, plus another on-order pair), Jamaica (six), Montenegro (two) and the United Arab Emirates (12, plus two on order). South Korea's army also has 40 examples of the single-engined model on order.
Craig Hoyle joined Flight International in 2003, and has edited the now monthly title since 2015. He has reported on the UK, European and international military aviation sector for more than 25 years, and produces our annual World Air Forces directory.