The Republic of Singapore Air Force (RSAF) has outlined efforts related to its eventual receipt of the Lockheed Martin F-35B, including discussions with existing users.
The RSAF's Next Generation Fighter Project Office (NPO) is tasked with looking at the operational, logistical, and security issues around the F-35, of which Singapore is to receive four examples in 2026. The island nation also holds options for an additional eight of the type's short take-off and vertical landing (STOVL) variant.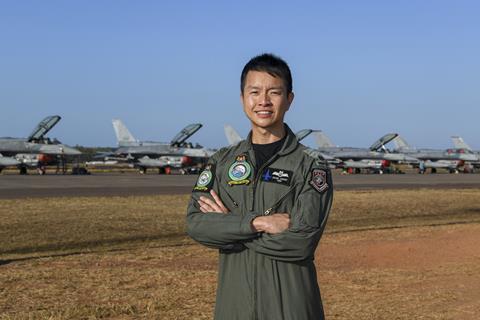 Singapore is primarily looking at how the F-35B will integrate with existing platforms, according to RSAF Major Zhang Jiangwei, who heads the NPO. He says that following Singapore's signing of a letter of offer and acceptance for four F-35Bs in 2020, the service has gained access to information that is exclusive to F-35 operators.
The RSAF has also conducted simulator training with the type, which Zhang says "can realistically simulate the actual capabilities of the platform".
Zhang made the remarks recently on the sidelines of the Pitch Black exercise in Australia, for which the RSAF has dispatched a large contingent including eight Boeing F-15SGs, eight F-16D+s, a Gulfstream 500 airborne early warning and control aircraft, as well as an Airbus Defence & Space A330 multi-role tanker transport.
The exercise also affords the RSAF the opportunity to observe US Marine Corps F-35Bs in action.
"We do not only take one data point as part of our evaluation, we also corroborate that in our interactions with other F-35 users, as well as see how it performs in exercises such as Pitch Black," he says.
"Suffice to say we are happy with the performance of the aircraft as of now."
The NPO participated in an F-35 user group event in May 2022, as well as simulator work at Lockheed's Forth Worth, Texas factory.
"These efforts have allowed us to gain a deeper understanding of the F-35's capabilities as well as understand the integration requirements into the wider [Singapore armed forces' order of battle]," says Zhang.
"And of course, we have a series of other evaluation opportunities lined up in the coming months and years, and that all falls in line with the rigorous and thorough evaluation process we have in [Singapore's Ministry of Defence]."
Adds Zhang: "The key value proposition of this aircraft… is this ability to interoperate with other current generation platforms."
The RSAF is also looking at the F-35B's engineering and maintenance requirements, as its assesses the F-35 programme in general.
So far, Singapore has focused on the STOVL F-35B. Beyond the STOVL variant, the F-35A is optimised for conventional runways, and the F-35C for large catapult-equipped aircraft carriers.
Answering a reporter's question about whether other F-35 variants might be considered, Zhang appeared to leave open the possibility: "This will ultimately depend on the results of our evaluation, and we cannot make any determination right now. And we are not sure about how things will go in the future."