Ukraine's defence ministry claims to have destroyed several Russian aircraft during its early efforts to defend the country from invasion by Moscow's military.
"The enemy suffers losses. Currently, six Russian air force planes and two helicopters have been shot down," the defence ministry claimed, just hours after Moscow had launched strikes against Ukrainian military facilities in the early hours of 24 February.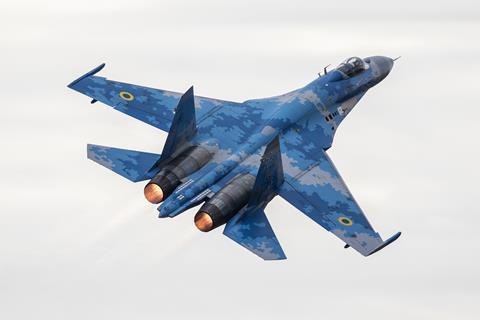 This action saw Russian forces "launch rocket and bomb attacks on airfields in Boryspil, Ozernoye, Kulbakin, Chuguev, Kramatorsk, Chornobayevka", Kiev says.
Condemning Moscow's "unjustified, false and cynical invasion", the defence ministry adds: "The Air Force of the Armed Forces of Ukraine is repelling an air attack by the invader".
Ukraine's defence inventory is dwarfed by that of Russia. Cirium fleets data cited in FlightGlobal's latest World Air Forces directory shows that Kiev has 318 military aircraft in use, including 98 combat aircraft and 112 combat helicopters. Its fixed-wing combat assets include Soviet-era RAC MiG-29s and Sukhoi Su-24, Su-25 and Su-27 jets.
By contrast, Moscow's 4,173-strong fleet includes 1,511 combat aircraft and 1,543 combat helicopters.