French aerospace specialist Safran is expecting to manufacture around 1,000 CFM International Leap engines this year, having delivered 40% fewer civil powerplants over the first quarter.
It says it handed over 326 engines from the CFM56 and Leap range in the three-month period. These included 272 Leap engines, down 35%.
The Leap powers the Boeing 737 Max as well as the Airbus A320neo family and the Chinese-built Comac C919.
Deliveries of the Leap-1B had already been badly affected by the grounding of the 737 Max.
But while Safran says it has "successfully managed" the impact of the grounding, chief executive Philippe Petitcolin states: "The situation we are facing today is of a different order of magnitude.
"It remains difficult, at this point, to measure precisely its far-reaching consequences."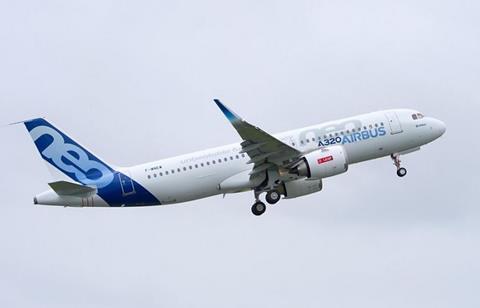 Safran is working on the assumption of a gradual recovery with new aircraft deliveries lower until at least the end of this year.
"In the long run, prospects remain good for Safran, notably because of a young and efficient fleet [which is] less likely to suffer early retirement and part out after [coronavirus crisis] grounding," it says.
Some 57% of CFM56-5B and -7B engines are less than 10 years of age and only 7% are above 20 years, Safran adds.
It says its performance was in line with guidance and "practically unaffected" by the crisis for the first two months of this year.
The company had put into place the initial measures for adapting to the 737 Max situation, and cash generation had been positive.
But in March its businesses experienced a 20% fall in activity, with engine and brake aftermarket, as well as aircraft interiors retrofit, declining as air traffic dropped. These effects have intensified during April.
Having temporarily shut down nearly 20% of its sites, Safran is putting in place contingency measures including the furlough of 35% of personnel worldwide – including 45% in France – plus a 60% reduction in capital expenditure and 30% cut in research and development.
It will reduce its operating costs by more than 20%, it says, compared with last year.
Safran says its liquidity is "strong". It has finalised a €3 billion two-year bridge loan and an undrawn €2.5 billion revolving credit facility, and it has sufficient liquidity to fund operations and reimburse debts maturing in July 2020.
It adds that it is intending to maintain positive cash generation for the full year, despite "significant potential headwinds" in the second and third quarters.