The US Navy (USN) completed the first captive carry flight test of an Advanced Anti-Radiation Guided Missile – Extended Range (AARGM-ER) on a Boeing F/A-18E Super Hornet on 1 June.
The F/A-18E performed a series of "aerial manoeuvres to evaluate integration and structural characteristics" of the AARGM-ER during the test, which was conducted at the NAS Patuxent River test range in Maryland, the USN said on 2 June. No other details of testing were provided by the service.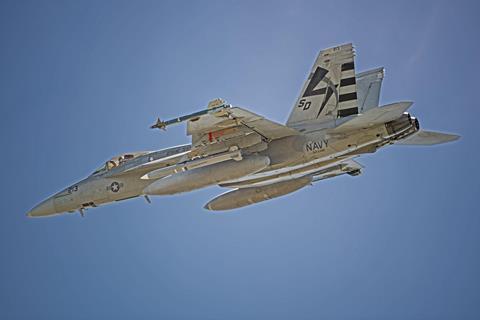 The service plans to use data collected during testing for further flight testing, which will continue over the next several years to prepare the weapon to reach initial operational capability in 2023.
The USN plans to award a low rate initial production contract to Northrop Grumman in the third quarter of fiscal year 2021 to begin manufacturing the AARGM-ER. The number of missiles to be initially produced was not disclosed.
The AARGM-ER is an air-launched weapon designed to destroy enemy air-defence systems, such as surface-to-air missile batteries and radar sites. The missile is an extended range version of the service's fielded AARGM weapon. It has a new rocket motor and warhead, says the USN. The missile's range has not been disclosed by the service.
The USN plans to integrate the AARGM-ER with the F/A-18E/F and EA-18G Growler. Eventually, the weapon is also to be qualified on the service's Lockheed Martin F-35C, as well as the US Marine Corps' F-35B and US Air Force's F-35A.
Correction: This article was changed on 8 June to show that the USN has not yet awarded an AARGM-ER contract, rather it plans to grant the production award in the third quarter of fiscal year 2021.


Garrett Reim is a military aviation reporter based in Los Angeles. He reports on military aircraft manufacturers and operators in North and South America. Send him your confidential tips, press releases and story ideas via garrett.reim@flightglobal.com. Follow him on Twitter via @garrettreim.