The US Navy has completed update work on 10 Lockheed Martin F-16A fighters that are used in the aggressor role.
The work was undertaken by the Specialized and Proven Aircraft Program office, says the Naval Air Systems Command (NAVAIR).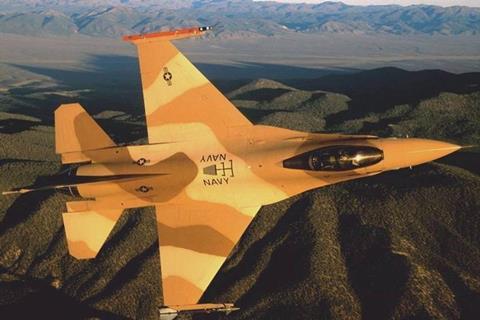 It involved the FalconUp programme to extend the jets' fatigue lives by over 500 hours. It also provides the baseline for the Falcon Star upgrade that will add additional 3,750 hours of service life. The Falcon Star work is already funded, says NAVAIR.
"The FalconUp upgrade incorporates structural improvements that extend the service life of the aircraft from 3665 hours to 4250 hours," says US Navy captain Ramiro Flores.
"The programme procured and installed proven structural modification kits on 10 U.S. Navy aircraft that enhanced and strengthened their internal structure."
A "Build-to-print" methodology was used for the FalconUp work, with products, equipment, and components exactly tailored to the navy specifications.
The work should extend the operational life of the jets through 2025.