In a move that is sure to provoke a backlash from Beijing, the US Department of State has approved a package of weapons for a possible Foreign Military Sale to Taiwan, including dozens of anti-ship missiles, rocket artillery and long-range airborne reconnaissance pods.
The US Defense Security Cooperation Agency (DSCA) delivered the required certification notifying the US Congress of the possible sale, it says on 21 October.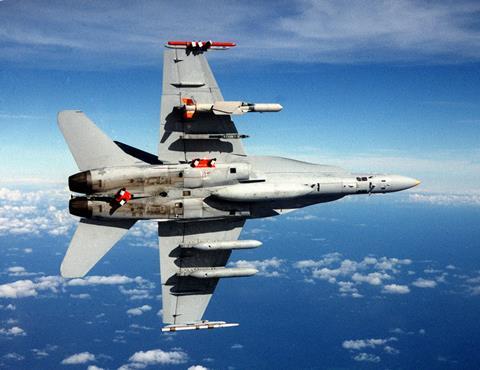 The possible sales package includes 135 examples of the Boeing AGM-84H Standoff Land Attack Missile Expanded Response (SLAM-ER), 11 Lockheed Martin High Mobility Artillery Rocket Systems (HIMARS) launchers and six Collins Aerospace MS-110 multispectral airborne reconnaissance pods.
The SLAM-ER package is estimated to cost $1 billion, the HIMARS are $436 million and the MS-110 are $367 million. The final cost will likely be lower, depending on Taiwan's final requirements, budget authority, and signed sales agreement. Ultimately, the weapons buy has to be accepted by Taipei as well.
China does not recognise Taiwan's independence and claims the island nation for itself. Beijing is increasingly making aggressive postures toward the small democracy, for instance by flying fighter jets unannounced into the country's air defence identification zone. China says it wants to reunify with Taiwan and is willing to use military force to bring the nation back under its control.
In light of explicit threats of invasion from China, Taipei has sought weapons from the USA to defend itself. In December 2019, the country signed a letter of intent to acquire 66 Lockheed F-16V fighters.
The recently announced potential sales package would include complementary weapons that would make an amphibious invasion of Taiwan more difficult. "This proposed sale serves US national, economic, and security interests by supporting the recipient's continuing efforts to modernise its armed forces and to maintain a credible defensive capability," says the DSCA.
The SLAM-ER anti-ship missiles could be carried and launched from Taiwan's fighters at incoming amphibious assault ships, landing craft and other vessels in an invasion fleet. The weapon has been demonstrated hitting targets up to 150nm (278km) away.
To find inbound targets or a build-up of an invasion fleet, Taiwan's air force could use the MS-110 multispectral airborne reconnaissance systems. The sensor pod collects multi-band infrared imagery that can help operators discriminate between targets, detect changes on terrain, see camouflage, concealment or deception, claims Collins Aerospace.
In addition to being compatible with fighters and other manned intelligence, surveillance and reconnaissance aircraft, the MS-110 can be carried on the General Atomics Aeronautical Systems MQ-9 Reaper, an unmanned air vehicle (UAV) that Taiwan is also reportedly considering buying. General Atomics' MQ-9A has a maximum flight time of 27h and the company is pitching the UAV's endurance as useful for keeping a persistent eye on US adversaries such as China and Russia.