Washington DC and Canberra have entered a partnership for work related to the developmental Next Generation Jammer Low Band (NGJ-LB) project.
The pact between the US and Australian defence departments allows the two countries to share costs and risk, as well as ensure commonality, says the US Naval Air Systems Command (NAVAIR).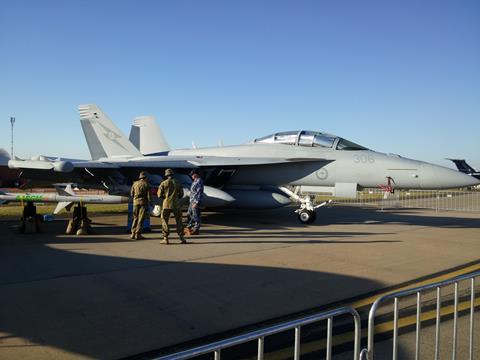 NGJ-LB is part of the US Navy's (USN's) broader Next Generation Jammer (NGJ) programme. When deployed, the new equipment will replace the ALQ-99 Tactical Jamming System aboard the Boeing EA-18G Growler, the electronic warfare variant of the F/A-18F Super Hornet. The USN and Royal Australian Air Force are the only operators of the EA-18G.
"This expanded partnership with Australia to develop the newest Airborne Electronic Attack [AEA] jamming capability shows the level of commitment of both countries to ensure continued superiority of the electromagnetic spectrum," says USN Captain Michael Orr, AEA Systems programme manager.
"The NGJ-LB [project arrangement] allows for joint sharing of the best technologies in the world, furthering the AEA capabilities of both the US Navy and the Royal Australian Air Force."
Two companies, L3Harris and Northrop Grumman, are competing on the NGJ-LB project.
"The programme will enter the next phase of acquisition when the Capability Block 1 contract is awarded [in] fall 2020," says NAVAIR. "NGJ-LB will utilise the latest digital and software-based technologies that will address advanced and emerging threats in the lower frequency bands of the electromagnetic spectrum."
The NGJ-LB pact follows a similar one in May related to the Next Generation Jammer Mid-Band, which is set to commence developmental flight testing on the EA-18G.