The naming was announced by acting secretary of the air force Matthew Donovan at the 2019 Air Force Association's Air, Space and Cyber Conference in National Harbor, Maryland on 16 September. The trainer will sport red livery on its tail as the aircraft of the Tuskegee Airman's 99th Pursuit Squadron did during World War II.
Boeing won a $9.2 billion contract in September 2018 to supply the USAF with 351 T-7A aircraft, 46 simulators and associated ground equipment. The service is replacing its fleet of Northrop T-38C Talons that started entering service in 1961.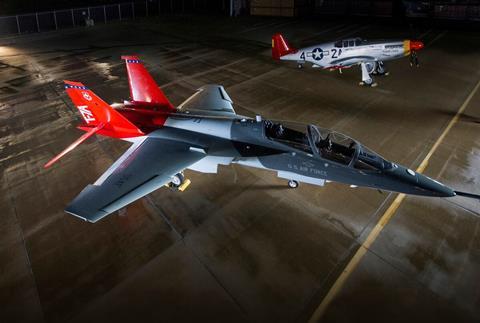 The naming of the jet trainer comes as the aircraft reached critical design review the week of 9 September.
Boeing flew the aircraft for the 100th time on 5 September. The T-7A first flew in December 2016, three years after its initial development was started in partnership with Saab.
That short development period was helped along by the company's reliance on model-based engineering, a process that aims to use digital drawings of an aircraft the whole way through development, says Steve Parker, programme manager for the T-7A. He declines to disclose details of Boeing's process, citing it as a competitive advantage.
"We're in the [engineering, manufacturing and development (EMD)] programme. It's unusual for an EMD [programme] to be doing the critical design review," says Parker. "We've already started manufacturing parts. We are already in flight tests. It is a very strange situation. It is what we like to call breaking the norm."
Competitors such as Lockheed Martin have alleged that Boeing bid the T-X programme at a financial loss, with the intent to get out of the red through highly profitable sustainment contracts and international sales. Parker says that is a misconception and that Boeing was able to bid low and move quickly because of its model based engineering approach.
Before the end of the year Boeing aims to complete the critical design review of its ground-based training system. Assembly of the first EMD aircraft will start in the coming months, though the company hesitates to specify a date.
"It depends how you define assembly. We will be assembling certain aspects around the world in a couple of months. But, the aircraft will start to come together next year," says Parker. "Certainly, by the summer of next year we will be well on the way of assembly."